Introducing ForrestBrown's monthly review of the most thought-provoking innovation conversations happening online and beyond.
Catching lightning in a bottle may be a metaphor for a near impossible task but that hasn't stopped scientists in Switzerland developing a laser beam to divert lightning strikes. Using an eight-metre-long lightning rod on the summit of Mount Santis, the team from the University of Geneva generated channels of ionised air to guide the volts to the ground. The larger protection area created by the laser could have applications for airports and other major infrastructure sites. JG
Joanna England, Editor of FinTech Magazine, provides a timely reminder that the three-horse race between regulators, anti-money laundering (AML) innovators and organised financial crime has been running for the best part of a century.
The opening stretch of this contest can be charted back to the sharp suited, tommy-gun wielding gangsters of the 1920s, who undermined the efforts of prohibition legislators. The 1970s then saw the introduction of the US Bank Secrecy Act which required banks to report significant cash deposits.
England illustrates how often fintech innovations have gone hand in hand with determined regulatory action by highlighting the intensification of global drug trafficking and terrorism in the 1980s and 90s which led to more sophisticated financial monitoring technology. The DNA of these regulatory and technological developments is recognisable in attempts to regulate the ever-expanding crypto sphere and Web3.
If the competition between regulators and AML fintech developers against financial criminals has one lesson to teach us, it is perhaps that the race is a marathon not a sprint. ST
Read about ForrestBrown's software R&D service here.
Mark Hanson, Vice Chair of the Scotland 5G Centre, uses this column in The Scotsman to explore the applications of cutting-edge telecommunications technology in sectors such as agriculture and healthcare. He makes the case for 5G as a platform for innovation from which green shoots will grow. It's an apt way to describe how the ability to exchange large amounts of data could be a game-changer in the automation of stages in agricultural production, from soil preparation to harvest. Our team in Glasgow will be following 5G developments with interest. For more food for thought read our article on agritech R&D. JG
Since starting life as a marketing wheeze to encourage early holiday bookings for a now defunct tour operator, 'Blue Monday' has cemented a place in the January news calendar. This year, Accounting Web's Editor, Richard Hattersley, used it as a hook for a sideways look at the challenges facing the accountancy profession in 2023.
Despite the doom-mongering headline, half of Hattersley's article is given over to reasons to feel cheerful. At ForrestBrown we can help share the load by working with accountants to navigate the innovation incentives available to clients. JG
Published at the turn of the year, MP Chris Skidmore's Mission Zero Report was based on 1,800 responses. Sarah George, Senior Reporter at edie, estimates it to be one of the largest engagement exercises ever taken on net-zero in the UK.
The report was commissioned by former Prime Minister Liz Truss as a means of exploring methods for the UK meeting it's legally binding 2050 climate target, whilst exploiting growth potential through innovation across a range of sectors.
George assesses the main message of Skidmore's review, concluding the UK's current approach is lacking and suffers from clarity and consistency in regard to policy.
Canvassing opinion from a range of sustainability, policy and finance leaders – including James Alexander, chief executive of the UK Sustainable Investment and Finance Association (UKSIF), Jason Longhurst, chairman the UK Business Council for Sustainable Development, and the Institutional Investors Group on Climate Change (IIGCC) chief executive, Stephanie Pfeifer – attitudes coalesced positively around the ambition of the review in its emphasis on the need for greater policy clarity in relation to driving lending and investment towards innovation aiming to decarbonise the economy. ST
Behind the humorous headline, the serious point John Thornhill – the FT's Innovation Editor – notes, is that the complexity of quantum makes it hard for investors to gauge the likelihood of returns. But despite scepticism in some quarters, innovative UK businesses are already putting quantum computing to practical use – from cryptography to enriching machine learning tools. This suggests there could be more than one way to skin this particular cat.
Forthcoming changes to R&D tax relief should help to accelerate innovation in the field. JG
Robin McKie – Science and Environment Editor at the Observer – points out that however uncomfortably busy the London tube system can be, air pollution is often a neglected concern for commuters.
Thankfully, Tanya Beri, winner of one of Innovate UK's Young Innovators awards – which provided 94 young entrepreneurs with grants for helping to solve some of the UK's most complex societal challenges – has developed an app that will help commuters to make more informed decisions about the impact of pollution on their commute.
Beri's app, rather than directing users to the quickest underground journey, instead suggests alternatives with lower levels of pollution per cubic metres (m3). The young innovator highlights an extraordinary statistic informing her work, that the UK safe limit for healthy air is fewer than 25 small particles m3 but that on busy tube routes this number can top 200 m3.
The app is set to be marketed later this year and will likely deepen the debate on the health impacts of urban transport pollution.
Inform your next UK investment with the Investment Potential Index – a powerful toolkit for c-suite decision-makers
Investment Potential Index
Competitors in the space and security sectors will be interested to know that Airbus is planning to spin off Zephyr, its high-altitude drone programme, with the intent of creating a separate telecoms and earth observation business.
The Zephyr is said to be in a final stage, is designed to fly at an altitude of around 70,000 feet at the edge of space in the area between commercial plane traffic and orbiting satellites. The drone will use solar panels to power its flight and also to recharge its batteries.
The Zephyr, said to be in a final stage, is designed to fly at an altitude of around 70,000 feet at the edge of space in the area of the stratosphere between where commercial plane traffic and orbiting satellites function. The drone will use solar panels to power its flight and also to recharge its batteries.
Solar powered drones are a lower cost alternative to commercial satellites, offering the opportunity to extend broadband coverage to isolated locations and those affected by natural disaster and conflict.
2023 is set to be another big year for advances in drone technology. EUROCONTROL's Innovation Hub have also announced the setting up of their Drone Centre of Excellence which will host the operations of the Parisian drone test corridor. It aims to help advance airspace risk assessments for a variety of countries looking to better facilitate drone technology and the regulation needed in order to make it commercially viable.
The development of aerospace and defence technologies makes the sector one of the crown jewels of UK exports. As such, the scope of qualifying R&D activity is broad. Our team of experts combine unrivalled technical firepower and industry leading service to deliver R&D tax claims for aerospace and defence companies. ST
Returning to the Alps, the next article in our recommended reads focuses on the use of near-infrared light (NIR) to treat Parkinson's disease, as pioneered by researchers at the French Alternative Energies and Atomic Energy Commission in Grenoble. Cécile Moro, the biologist profiled in the piece, explains her work exploring the effects of NIR light on the brain. The early results are encouraging, raising hopes that this treatment could slow or even stop the progression of Parkinson's disease. From her alpine base, Moro is working in partnership with a US biotech company, demonstrating the global nature of R&D. JG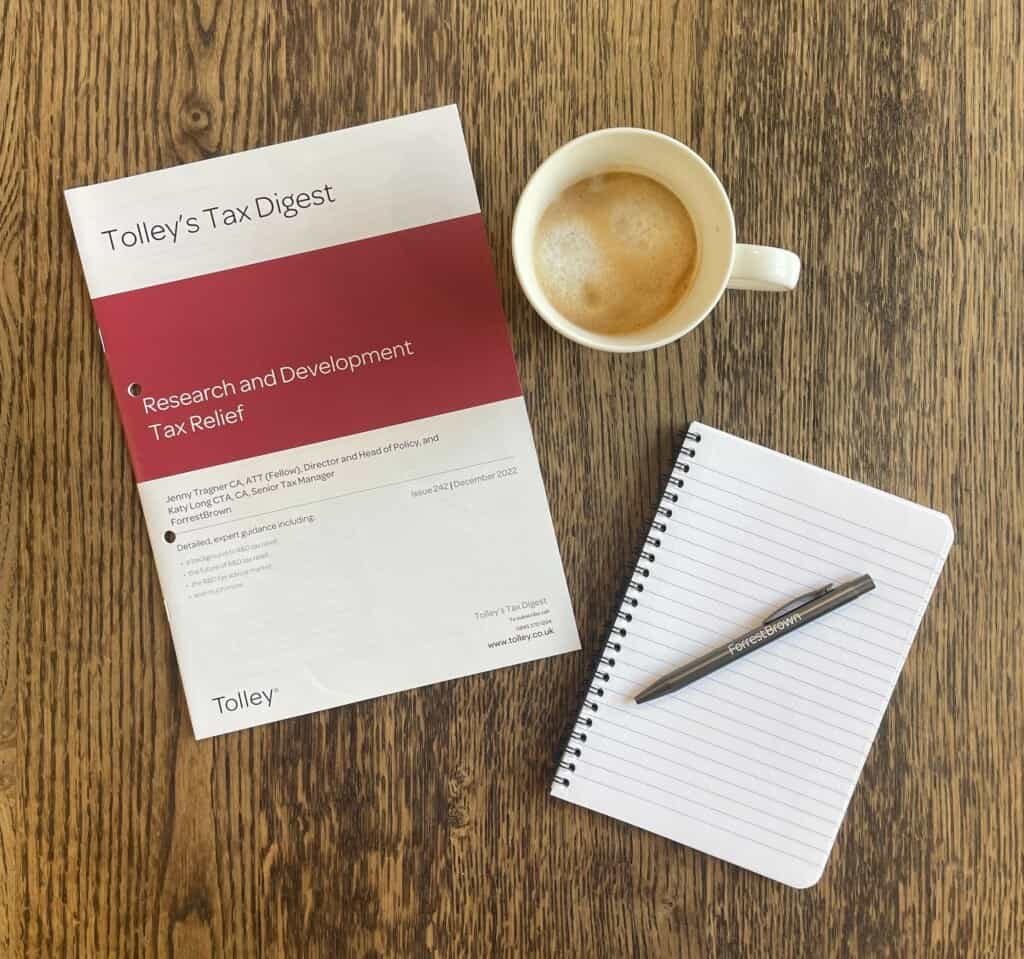 Last but not least, a special mention for the latest edition of Tolley's Tax Digest. This month's publication is a comprehensive summary of Research and Development (R&D) Tax Relief authored by ForrestBrown Director and Head of Policy Jennifer Tragner and Associate Director Katy Long.

The detailed, expert guidance includes:
– a history of the development of R&D tax relief
– what the future holds for R&D tax relief
– an overview of the R&D tax advice market
Get in touch
ForrestBrown is dedicated to supporting businesses as they push the boundaries of what is possible and innovate.
We're also passionate about the transformative power of innovation tax incentives for your business and the wider economy, which is why we play an active role in shaping innovation tax policy.