View the latest statistics: HMRC R&D tax credit statistics 2023
This year has changed everything – and HMRC's annual R&D stats release can't help but resemble a relic from the distant past. Interesting to look at, sure, but ultimately an anachronism in our pandemic era.
ForrestBrown has no problem reading the tea leaves and extracting the key points nestled in the data. But what used to be a worthwhile endeavour is increasingly at odds with the enormous challenges before us.
68295 businesses funded through R&D tax credits in 2018-2019
41% of large company RDEC claims are worth less than £50k
64% disparity in R&D spend between HMRC stats and ONS data
Key R&D tax credit trends
Too often in the pre-COVID era, we have seen government decision-making beset by inertia and red-tape. But crises force us to act quickly and decisively. The response to COVID-19 proves that the government can act decisively with data-driven, brave and efficient policy-making.
As the UK begins the long climb back from recession, we need to ensure our businesses (and the communities they serve) are supported. R&D will be key in the UK's recovery, and R&D tax credits are a proven way to spur investment in innovation. HMRC carried out a study in 2015 which showed that for every £1 awarded in tax relief, up to £2.35 of additional investment in R&D is stimulated.
ForrestBrown has seen an increased demand for the incentive from companies – but is the government willing to meet this demand with renewed ambition? If so and the government is serious about the role that R&D has to play in the COVID recovery and beyond, then the impact of the incentive must be measurable.
Trend one
HMRC crackdown and bad stats
The amount of R&D expenditure reported by HMRC is substantially more (64%) than that reported by BERD (business enterprise research and development survey). We don't know the truth about why this is.
Over the last few years, there have been increasing attempts from HMRC to clamp down on what it considers to be spurious claims. There absolutely is a very real and present problem with spurious advisers in the R&D tax advice market, but this data also raises the concern that the clampdown could in part be based on bad stats.
It helps no one if an attack on spurious claims is led by spurious statistics.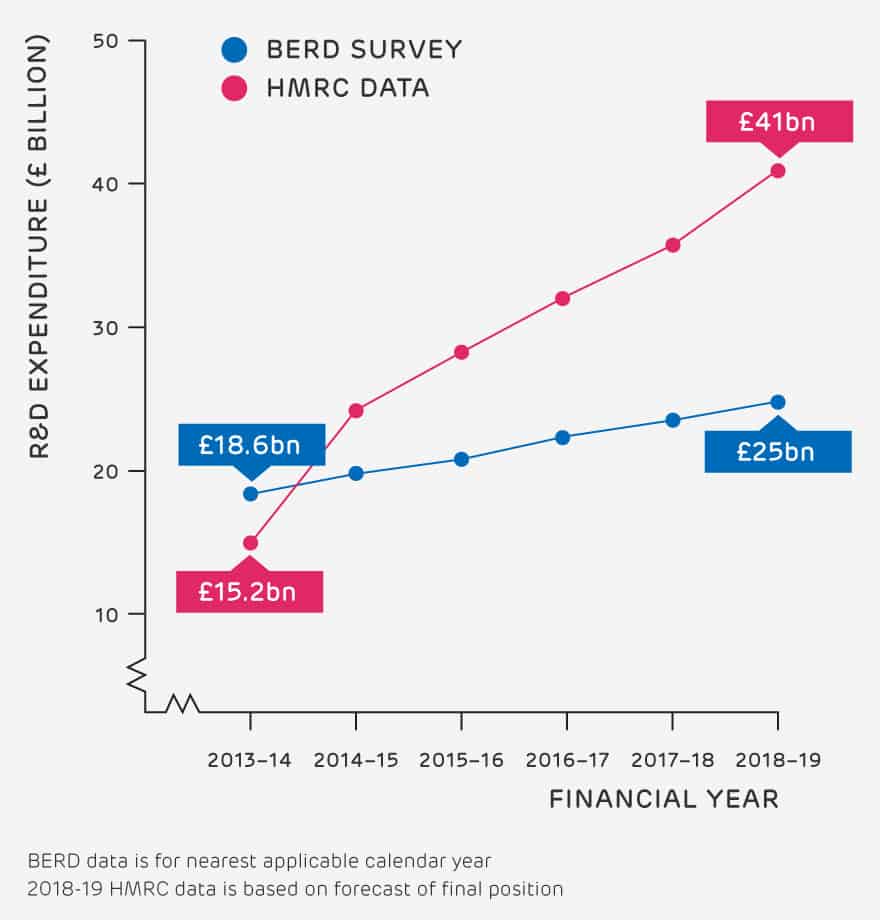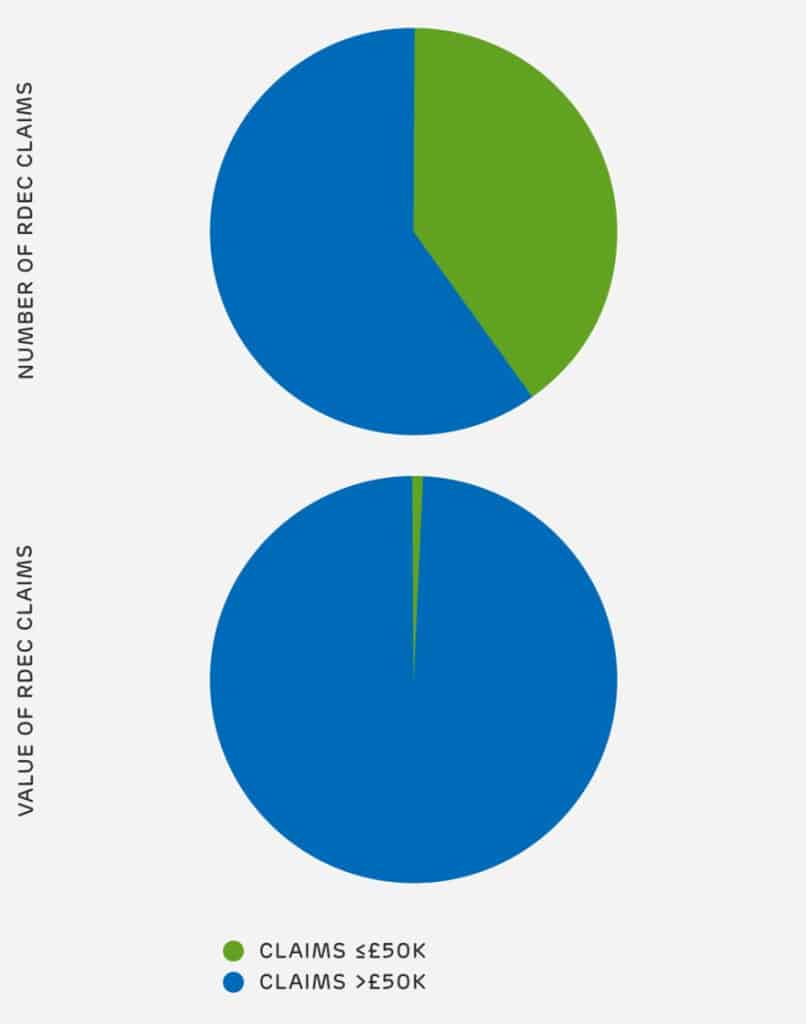 Trend two
Large companies, small claims
Last year, we reported that nearly three-quarters of SMEs claimed less than £50k, a trend repeated in this year's data. We now also see a similar trend emerge for large companies, 41% of whom also make small-value claims.
This might not look like news, but these are large businesses, each with over 500 staff members and a substantially higher cost base. These companies recognise they are innovating, but only report a small fraction of their costs in their R&D claims.
Big businesses often struggle to realise the full potential of their R&D, as they lack engagement across key stakeholders in the business. R&D claims are often the remit of the finance team, but engagement from technical department leads and senior leadership is essential to a fully maximised RDEC claim.
Trend three
Yet more SMEs claim RDEC
Overall, we have seen another increase in the number of SMEs claiming RDEC. This happens for all sorts of reasons (EU State Aid rules, for example). But the increasing use of RDEC shouldn't simply be waved away as a legal quirk.
Before the introduction of RDEC in 2013, these SMEs had access to the old large company scheme, but most chose not to claim, primarily because it didn't offer the cash benefit that RDEC does.
RDEC was introduced to increase visibility, certainty and generosity for loss-making businesses. All of these characteristics make it as attractive to SMEs as to larger businesses.
Having seen the impact of both, it is clear that RDEC is the superior mechanism when compared to the SME incentive and should be the basis for all claims. Businesses using RDEC, whether loss- or profit-making, can be much more sure about the size of the benefit they will receive.
It's increasingly clear that maintaining two wildly different mechanisms for relief simply doesn't make sense, especially for the growing number of SMEs who access both incentives.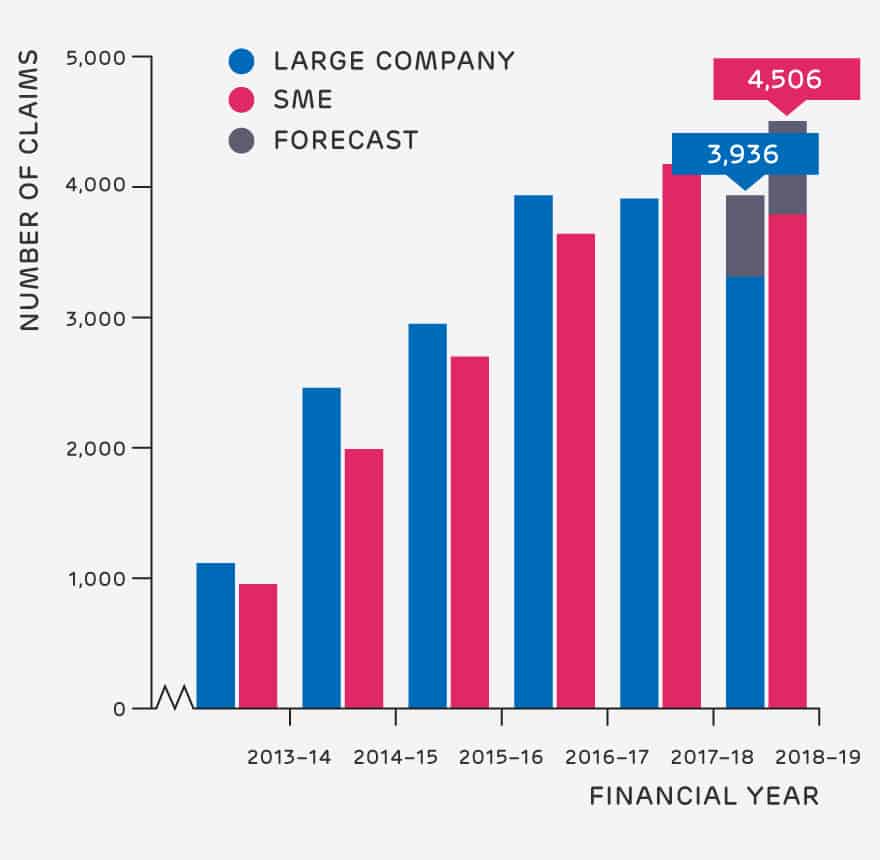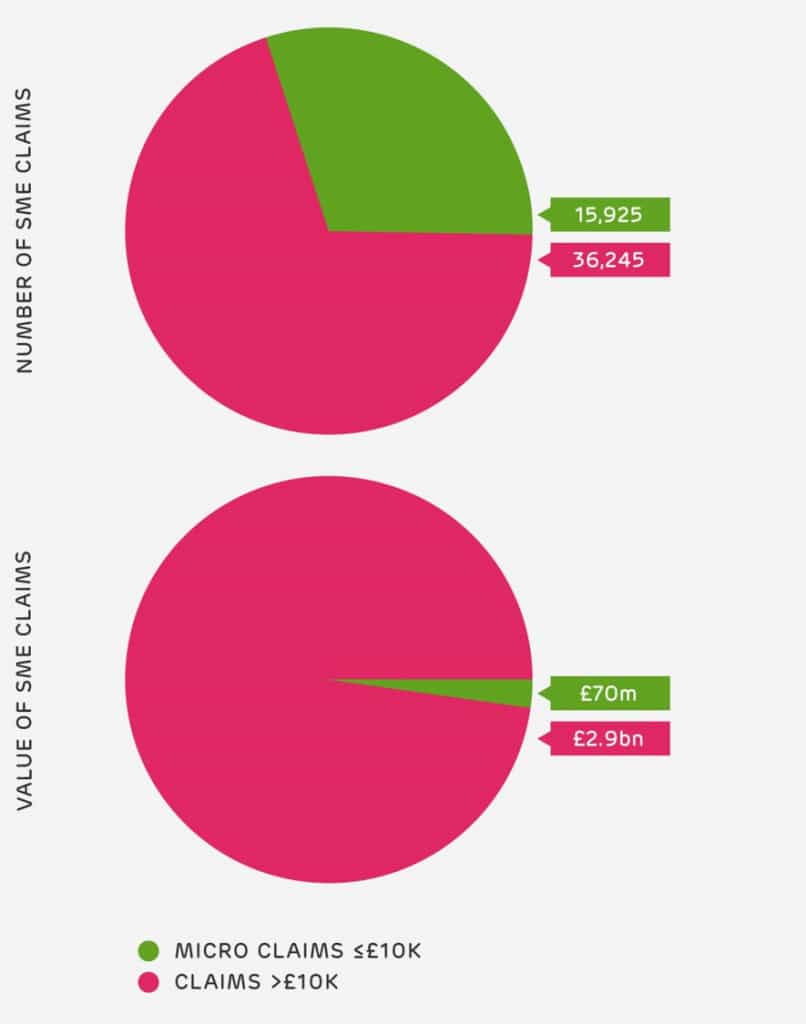 Trend four
Small claims cast long shadow
Over the last few years, we've seen more businesses than ever make use of R&D tax credits. ForrestBrown is proud to have played a key role in raising awareness of the incentive and educating businesses on how to claim.
The 15,925 micro (that is, sub-£10k) claims each year could be transformational for the small businesses or start ups claiming them, but this influx has diluted claim values. Almost a third of SMEs claim £10k or less, representing only 2% of the total cost to HMRC. This volume of claims puts a significant administrative burden on HMRC.
R&D tax credits under the SME scheme are increasingly a tale of two brackets: a cluster of smaller claims on the lower end and a burgeoning stratum of bigger claims from larger SMEs, with a predicted 27% increase in claims worth over £50,000.
Trend five
Software and digital takes bigger byte of the R&D pie
As the prominent VC Marc Andreessen observed: "software is eating the world". There is no modern sector that doesn't overlap with digital in some way.
As disruptive digital start ups have matured and upset the status quo in every sector, businesses of all types are looking for software and technology solutions for some of their most challenging problems. Those who continue to resist now risk being left behind by their agile peers.
As software becomes more and more ubiquitous, it's unsurprising that software R&D claim numbers and values continue to grow strongly and consistently for the ICT sector.
Our forecasted figures
HMRC's 2018-19 data is still partial and will be restated in next year's statistics release. Rather than wait until next year, we've forecasted the likely final figures for this period. HMRC has estimated based on their experience of claim filings, that the total cost of relief claimed will increase from £5.3bn to £6.3bn when the final figures are reported. We've used this increase (18.9%) in our analysis.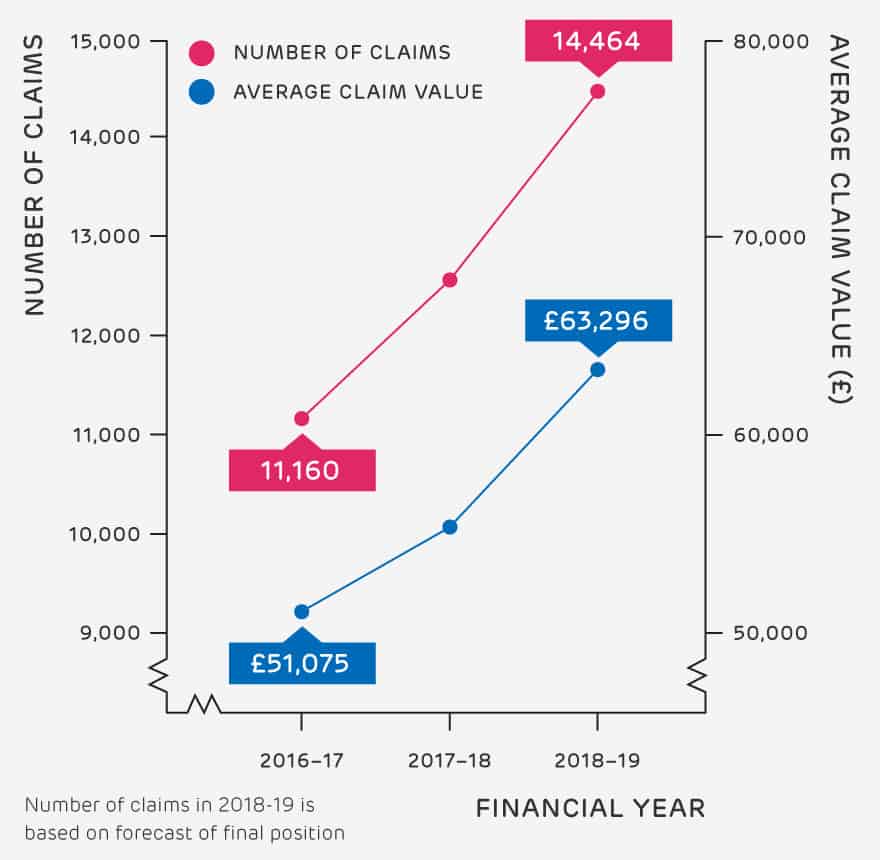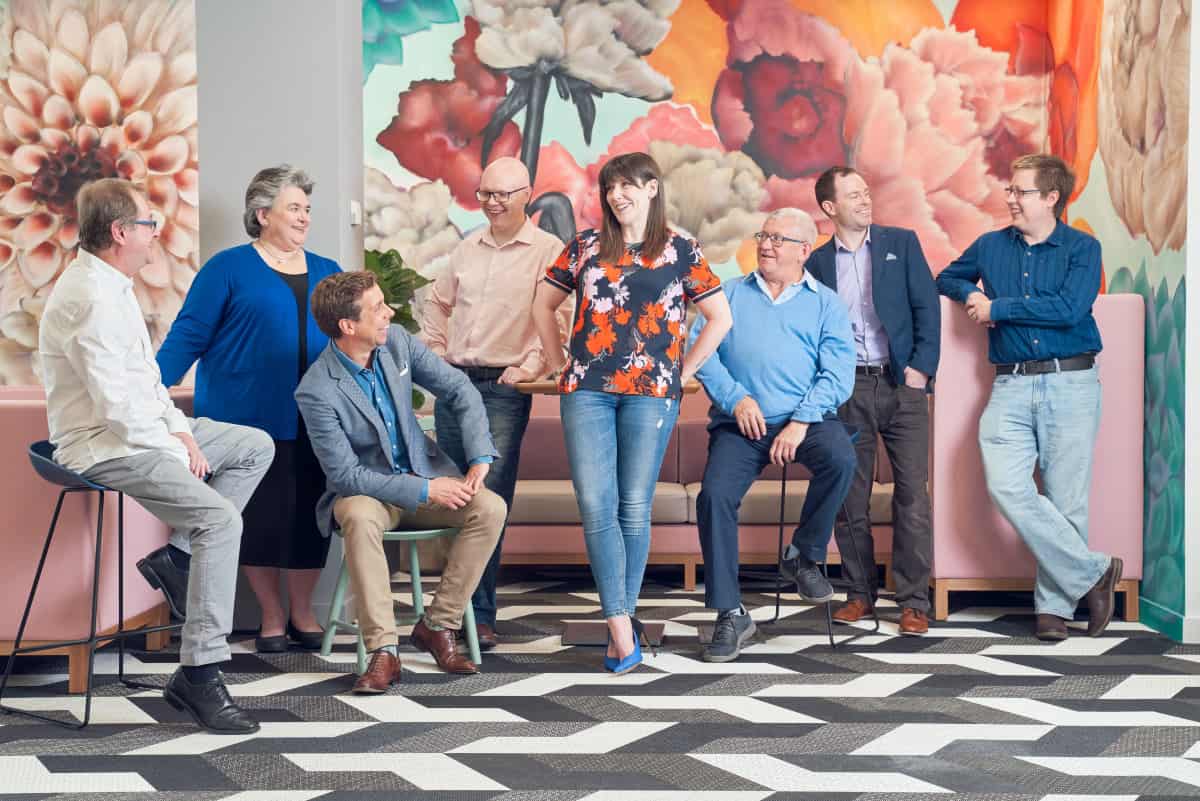 Facing a specific challenge?
Our best-in-class specialist R&D tax credit advice will help you to make better strategic decisions for your business.
Benchmark my R&D claim
Are you one of the 57,355 businesses already investing in innovation and making an R&D tax credit claim?
If so, you'll want to check how your R&D tax credit claim stacks up against businesses in your region and your sector for peace of mind that you're making the most of this valuable source of funding.
Benchmark your R&D tax credit claim by region
How does your R&D tax credit claim compare to your peers?
And where are those businesses based? A quick note: Regional allocation is based on the postcode of the company's registered address, which might not correspond to where R&D takes place.
Benchmark your SME R&D tax credit claim by sector
The average SME claim value has risen this year, with many more companies claiming north of £50,000. These SMEs shouldn't rest on their laurels, however. An expert adviser can ensure every penny possible is claimed.
Benchmark your claim against your peers
To ensure you're receiving the full value on your R&D tax credit claim, speak to our team of chartered tax advisers, sector specialists and former HMRC inspectors.

We can prepare your R&D tax credit claim end-to-end, or if you're looking for assistance on a specific aspect of a claim you've started elsewhere, our tax advisory practice offers  flexible, specialist advice adapted to your needs.