For innovative businesses, R&D tax credits are a major source of finance. We often see them at the start of a virtuous circle of innovation and a culture of R&D. A circle where once a firm realises the transformative financial benefit of the incentive, it drives further innovation. See an exciting example of this in action with our case study on Dartington Crystal.
From a low starting point, awareness of this valuable tax incentive is growing. However, there are many different types of adviser you can engage to help you with your claim, and some companies will choose to go it alone. So it's worth exploring the considerations that should be made before appointing a new adviser or deciding on a DIY approach.
What do HMRC think about R&D tax credit advisers?
The agent strategy team (therefore, HMRC's overall stance) is positive about the use of R&D tax advisers and specialists. This is primarily because they are reassured by membership of professional bodies such as The Chartered Institute of Taxation (CIOT), meaning an obligation to adhere to stricter ethical guidelines than HMRC's own suggested good practice points.
HMRC's R&D team broadly feel the same – advisers save them time by knowing the rules and what information to present. However their expectation regarding quality is higher than it would be for a company going it alone. This means that choosing a reputable adviser is important, as they will look less favourably on a badly prepared claim submitted by an adviser than by a company.
---
Eight considerations when choosing a new R&D tax credit adviser
Let's take a more detailed look at all of those considerations mentioned above. It will help to read these in conjunction with the illustration below. This shows the difference between a well-rounded R&D tax credit team, and one which may specialise in one or two key areas, but fall short in another.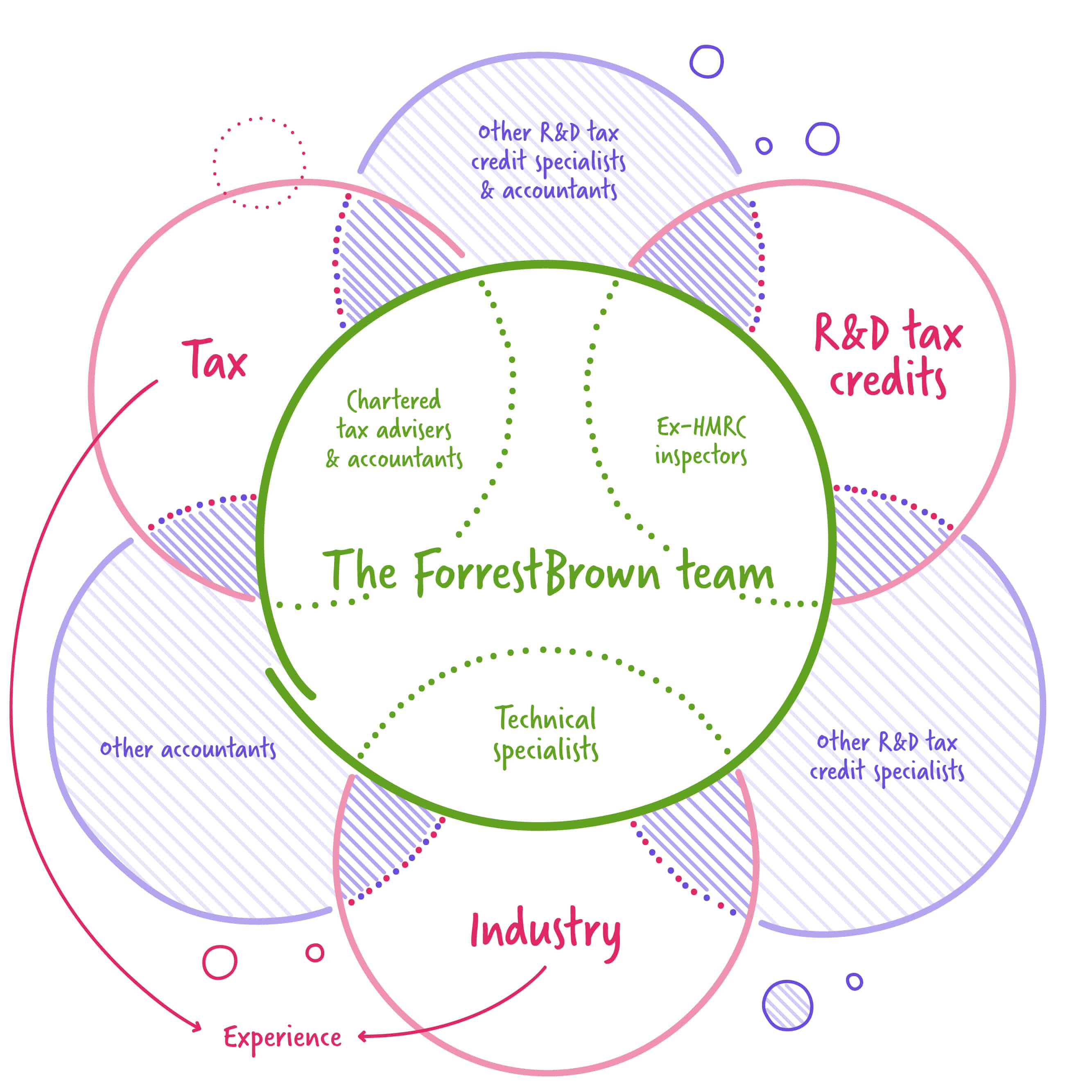 1. Assess your potential adviser's experience of the tax industry
R&D tax credits are a tax incentive administered by HMRC. So it is an important starting point to ascertain an adviser's tax qualifications and experience. Are they chartered tax advisers? You won't need us to point out that tax is a complicated topic. HMRC expect R&D tax advisers to know the tax legislation, so ensure your adviser is proficient on tax law on your behalf. Do they have the in-house expertise to submit your CT600, or will that be left to you?
Chartered tax adviser status is nationally regarded as the gold standard of tax qualification in the UK. Our 140+ strong team is made up of chartered tax advisers, chartered accountants, solicitors, sector specialists and former HMRC inspectors. This gives us a combined tax experience of more than 300 years. It's all designed to give our clients confidence that their R&D tax credit claim is in safe, expert hands.
Many branches of tax overlap. So a failure by your chosen adviser to understand the full landscape could lead to problems further down the line, or mean that you do not optimise your overall tax position. Because of this overlap, you may also find that your R&D tax credit consultant needs to work with your in-house tax expert or team, or other external advisers, such as your accountant. Are you confident they will be able to do this smoothly? It will be important that they can.
And it is not just tax issues that R&D tax credits can have an impact on. R&D tax credits can affect, or be affected by, grants and other funding sources. So a holistic tax approach and broad understanding of the funding landscape is desirable.
2. How often do they handle R&D tax credits?
OK, so a broad knowledge of tax is one thing, but what about the minutiae of making an R&D tax credit claim. A good question to ask is "How many R&D tax claims have they submitted?". To give you some context here, a typical regional accountancy practice may handle 20-50 claims annually. At ForrestBrown, we submitted over 1,000 last year alone.
This experience is important in getting the claim right. For instance, will your adviser know what evidence to include to justify your claim? If this is not done correctly, you could risk being challenged by HMRC.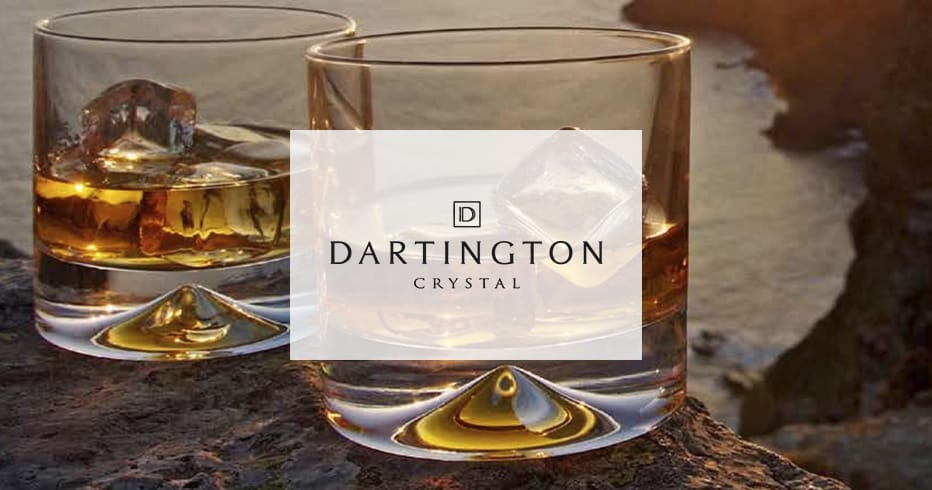 The benefits of R&D tax credits are crystal clear at Dartington
Conversely, does the adviser have the expertise to uncover all your R&D projects and expenditure, and, for example, the indirect activities that can qualify? Get this wrong and you will be sure to under-claim.
That may not sound so bad. But we have seen plenty of cases handled by other advisers – large and small – where clients have missed out on tens of thousands of pounds and not even realised it at the time. Sometimes we have been able to step-in in time and correct it, as we did for Structural Metal Decks Ltd in the construction sector.
When looking for an adviser you will be bombarded with marketing claims – don't fall for these six common R&D marketing myths!
3. What industry experience do they have?
R&D tax credits are about applying the tax rules to your specific industry. So it's worth checking whether the advisers you choose employ industry experts that are capable of understanding and communicating the advances that are being sought.
If you work within a particularly narrow space, think about how your competent professional will be able to portray the technological baseline. And how they attempted to move this baseline forward. The language is likely to get technical, so it helps if the advisers have people who can speak the lingo on their team. They will be able to translate from tech to tax speak.
4. What will your overall time investment be?
Sounds a strange question at first, right? These considerations are about the advisers, not you. Well actually, when you start to investigate, you will find that different R&D tax credit advisers offer very different services. Some advisers will invest a lot of time themselves in understanding your business, preparing the claim and handling the submission. This option takes the burden off you and is actually pretty painless.
You will find advisers whose approach is to simply review forms and long documents that you have been left to compile yourself. This may be cheaper at face value but the actual time they commit is limited. It means you have to swot up on all the rules, work out what does and doesn't qualify, spend time writing the report, and then submit it after it has been checked. With the onus on you, you'll probably sweat a bit about whether you are getting it right.
Ask yourself what your time is worth? Is it worth dedicating a fortnight or month to this, or choosing a more complete service that leaves you free to get on with what you do best? Each case will be different, but if you feel you are spending a lot of time on this, then something isn't going right.
One final point on your time. Be wary of advisers who don't spend any time with you at all, and effectively exclude you from the claim process. Ultimately, you are responsible for the validity of your R&D tax credit claim, so it is important that you are aware of, and agree with, what's in it.
5. What is the process that your adviser will follow?
This follows on nicely from the last point – check out exactly what your prospective advisers will do. As you are beginning to realise, it can be like comparing apples with pears. A comprehensive service that maximises the chance of getting the claim right, and minimises the work you have to do, will probably look like this: A meeting with you, a site visit to witness your R&D or prototype, preparation of the claim, an inbuilt quality assurance stage, review of the claim documentation by you and submission of the claim.
To showcase one of these stages, our quality assurance process applies to every claim we prepare. It includes a detailed tax review, as well as input from senior chartered tax adviser staff, sector specialists and a former HMRC tax inspector.
6. How about enquiries?
For most businesses, the next stage after submission will be receiving the benefit of the R&D tax credit. However, a proportion of claims submitted each year are selected by HMRC for further review. This is, after all, public money being given out and checks have to be in place.
When claims are filed, they review the documentation for risks or weaknesses in the claim. If they are not satisfied with the answers to their questions, they will open an enquiry. This is a crucial point to understand and can really help you ascertain the expertise of a potential R&D tax credit adviser.
If you ask for an overall success rate, just about every adviser will say they are 100% successful. A better question to ask is "What is their enquiry rate?". For reference, anecdotally, we understand the industry average to be 7-9%, while ForrestBrown's is less than 2%. Find out about our enquiry support service.
Our claim methodology is designed to withstand the detailed scrutiny applied by HMRC during an enquiry, to ensure that they can be resolved to HMRC's and our client's satisfaction as quickly as possible. We have heard of cases where other firms will simply withdraw a claim if it is challenged, raising serious questions over whether it was defendable in the first place.
Also, check if the quoted fee includes enquiry support. If it doesn't, this would be likely to be a considerable extra cost at a stressful time – should an enquiry be raised.
If you want to probe further on this important subject, other questions to ask include: "What is the typical revision rate?" "Have they ever withdrawn a claim?" "Have they ever lost a case?" They may not have this data immediately accessible, but a proficient R&D adviser should certainly be able to supply it.
7. Compare the terms of engagement
This is another area where firms of R&D tax credit advisers can vary considerably.
First, think about headline charges. Do they include everything or are there hidden extras framed as, for example, "administration costs" or "submission charges"? Another one to watch out for is a separate charge for handling an enquiry – as we mentioned in the previous point. They can quickly add up.
Will the adviser tie you into a long-term contract? If so, ask yourself "Why?". Are they not confident their service will satisfy you enough for you to return under your own free will? And consider how you will negotiate yourself out of that contract if you don't get on with the advisers after year one and things go awry. That is an uncomfortable situation to be in.
8. How will the firm work with other stakeholders?
R&D tax credit claims rely on relationships between people to complete effectively. Have a think about whether the firms you are considering will get on well with, and be able to work alongside, key people in the process: your competent professional, an in-house tax team or individual, your other advisers, HMRC. These relationships are essential to delivering that successful claim you desire.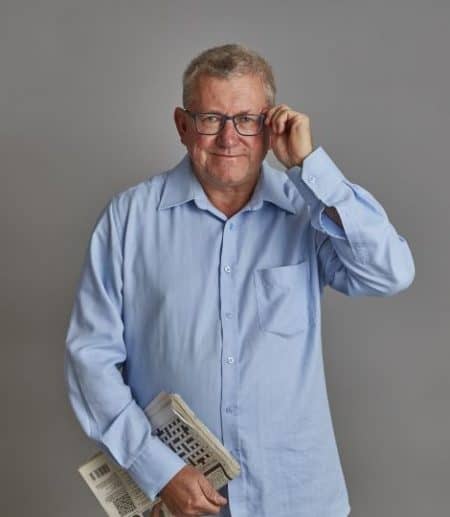 We've already explained the role of our sector specialists, who can communicate with your competent professional. We also have ex-HMRC tax inspectors on our team to help ensure the claim is prepared in a familiar way for HMRC's team (see right, Malcolm Henderson). Our team are in regular contact with HMRC about this specific tax incentive. It gives you peace of mind that the claim is right.
We have also invested a lot of time in developing processes so that we can work seamlessly with accountants, sharing information, supporting them as appropriate and handling the R&D tax credit part of their wider work.
---
The importance of choosing the right R&D tax credit adviser
That concludes the main points to consider when choosing an R&D tax credit consultancy. There's quite a bit to take into account. But it is an important decision that may well result in tens or hundreds of thousands of pounds a year. So it is worth taking the time to choose well, based on your appetite for risk, time available to get involved yourself, and who else will work on it within your business.
ForrestBrown have carefully cultivated a comprehensive service that blends expertise, resources and excellent service (as shown in the illustration above). It's designed to optimise your R&D tax credit claim, whilst minimising the time you need to spend on it.
Already claiming R&D tax credits? There's a better way to claim
Don't underestimate the transformative potential of R&D tax credits done properly. With ForrestBrown on side, we'll help you unlock value, save time and protect your business from risk.
Get in touch
Our friendly team will be happy to discuss any of the points raised in this article, so you can be sure that you choose the right service for you. Give us a call on 0117 926 9022 or send us an email.