You may not have guessed that one but you would recognise many of the names that populate their Top 100. From Apple to Starbucks, big brands have a big presence.
Investment in research and development is recognised as one of the best ways for an economy to grow. That means more jobs and greater prosperity so many governments around the world encourage innovation through the tax system. The UK government is no exception.
A helping hand for UK innovators
They offer two R&D Credit schemes: one for large companies and a more generous one for SMEs.
Large companies account for the lion's share of the money paid out in R&D Tax Credits (no surprise given their R&D budgets) but it is worth noting that smaller companies dominate the numbers of individual claims. Here are the UK figures for 2011/12 (source: ONS):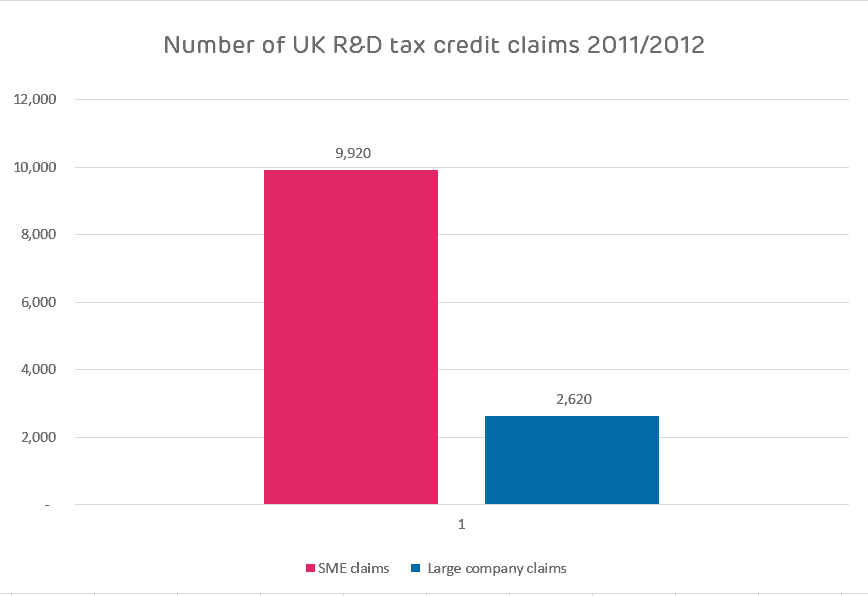 Many SMEs don't realise they are innovative
ForrestBrown has found many companies it works with don't realise that their own approach to solving problems or improving systems can qualify for R&D Tax Credit purposes. Of course, it's great to see the smile when we are able to reveal how much a successful claim is worth, but we can't help but think of the huge numbers of SMEs that are missing out because this is not on their radar.
Two words for SME business leaders to consider
'Innovation' and 'uncertainty'.
We like to put it in these terms: if your company is taking a risk by innovating, improving or developing a process, product or service, then it can qualify. It may not be obvious, it may be hidden away in a back office function.
Keeping this thought in your mind for past (you can claim these credits retrospectively going back two accounting periods), present and future operations could present your business with major and perhaps unexpected windfall.
All companies great and small
It may be the big companies steal the headlines and make Forbes Top 100 lists but they don't have a monopoly on R&D Tax Credits. Why not see if you could join the 9,962 SMEs that made a claim in 2012?