Breaking Bad made chemistry cool. Fans of the show will know that getting your formulations right takes some serious research and development (R&D), whilst the rewards for bringing an innovative product to market can be rather lucrative.
If he had gone to the government, the only thing the show's Walter White would have qualified for was some lengthy jail time.
In contrast, legitimate chemical engineering businesses in the UK should be explaining exactly what they do to the government. Because if they are developing new or improved chemical formulations, they will probably qualify for a generous tax incentive that could help fund their work.
---
What is chemical engineering?
Chemical engineering is a term that describes the processes of experimenting, producing, transforming and applying chemicals, materials and energy at scale. It usually starts out with chemists in laboratories and progresses up to engineers in large industrial plants.
Chemical engineering is more accurate when describing the scale up and industrial side of making products using chemistry. This includes a focus on things like thermodynamics, flow rates and heat exchangers. When a product scales up from the pilot stage to full scale it introduces new challenges that need to be solved by chemical engineers, scientists and chemists.
Much of the output from chemical engineers is apparent in our everyday lives: cosmetics, fuel, washing powder, pharmaceuticals, and clothing. Others fly a little more under the radar, but are nevertheless crucial: think water purification techniques, industrial materials, optical equipment, military technology, and coatings.
Chemical engineering and R&D
For tax purposes, research and development (R&D) can be defined as taking a risk whilst attempting to resolve technical or scientific uncertainty. This is quite abstract, and we often advise our clients to think beyond the traditional stereotype of laboratory-based scientists in white coats.
But in the case of chemical research, that may well be exactly the image to conjure up! Although, it applies equally to the work that chemical engineers do in industrial plants as they attempt to solve practical problems.
In the UK, R&D can qualify for tax credits that will help companies claim some of their expenditure back from HMRC – that's cash that could spark the next big project, or fund the final push in creating something remarkable.
Typical examples of R&D in the chemical industry
Innovative work done in the chemical industry is likely to include activity that qualifies for R&D tax credits. Examples of the type of work that might qualify include:
Experimentation with chemical structures to make advancements in the chemical sector.
Developing new or improved materials for use in manufacturing.
Designing innovative coatings e.g. optical and non-stick.
Solving onsite technical problems during the chemical production process.
Creating new polymers for bespoke projects.
Environmental monitoring and analysis techniques e.g. the impact of fracking on the environment.
Developing materials for extreme environments e.g. space, heat, high ionising radiation.
Improving perfumes to make them longer lasting, or reduce sensitivity, or developing new fragrances.
Working with bulk chemicals & petrochemicals such as in gas & oil refineries. E.g. focusing on process improvements to make it safer, more efficient, cleaner, economical, and meet changes in market demands
Developing pharmaceuticals – see our article on R&D in the pharma supply chain.
Developing pesticides.
Developing recyclable materials.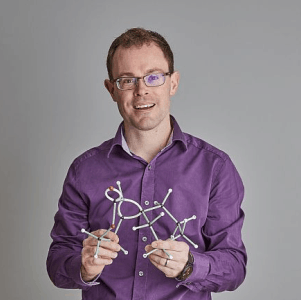 When working with clients to identify qualifying R&D activities, I am repeatedly reminded of the quality and high level of innovation going on in all aspects of the chemical manufacturing sector. Coming from an R&D background, I understand the process of undertaking research and enjoy the opportunity to work with exciting companies pushing the boundaries of what's known or currently possible.

Dr. Peter Beavis, chemicals and materials senior sector specialist
The development cycle of a chemical-based product
R&D occurs throughout the development cycle of a new chemical-based product. In the following section, we highlight the different R&D which might occur at each broad stage.
Stage One – research & discovery
It all starts with research. Several concepts are explored – such as target compounds, material options or pharmaceutical activity. These are narrowed down and then one progressed. We then enter a phase of discovery and synthesis, that often involves changing the structure of the target molecule or formulation and testing the effects. This will involve screening in laboratories and be carried out by chemists.
Stage Two – pilot scale-up
Still significantly chemistry-based, this stage involves the scale-up to pilot plants. This is an opportunity to develop and optimise the processes involved in the production of the product.
Stage Three – full scale production
Moving significantly into the field of chemical engineering, production has now scaled up. New issues arise at this stage due to the scale, such as different heating and cooling rates.
The chemical industry in the UK
Excluding oil companies, one of the biggest chemical companies in the UK is Johnson Matthey. In 2017 it had a revenue in excess of £12billion. There are plenty of other substantial chemical companies in the UK developing innovative products including Croda International, Elementis and Synthomer. And, of course, many smaller chemical firms doing cutting-edge work too.
Globally there are some much bigger players in the chemical industry with companies such as BASF, Dow Chemical and Sinopec among the leading chemical companies worldwide.
Types of chemical engineering
There are a range of different types of chemical engineering, and they all have the potential to qualify for R&D tax credits in the UK. Let's take a look at some of the chemical engineering sub-sectors and examples of R&D within them.
---
Speciality chemicals
Speciality chemicals interact and affect things they come into contact with. This leads to them also being called 'effect' chemicals, 'performance' chemicals and 'formulation' chemicals. Common examples of speciality chemicals include adhesives, cosmetic additives, lubricants and cleaning products.
Innovation in speciality chemicals
Alent, a British company acquired by the American firm Platform Speciality Products in 2015, develops speciality soldering pastes. These can be formulated to offer precise soldering solutions like:
Vibration reduction.
Thermal cycling.
Drop shock.
Bridging.
One of their soldering paste products has been used in the chips that make iPhones work. This shows just how important R&D is in even the most obscure parts of tech products that we have all come to rely upon.
---
Fine chemicals
Fine chemicals are high-quality chemicals produced in relatively small quantities for specific purposes such as flavourings, medicines and agriculture. Their manufacture tends to produce proportionately more waste and they are generally more expensive than chemicals produced in greater batches.
Innovation in fine chemicals
Mental health, including depression, is something that blights many people's lives. There are therapy and drug-based treatments and any breakthroughs in tackling the problems of depression are hugely welcomed.
Johnson Matthey has been working with a pharmaceutical client to develop new medicines to treat depression. Their expertise in fine chemicals was applied to develop a brand new active pharmaceutical ingredient (API) that could be used in the production of several medications. This type of innovation involved modifying a core molecule that they already produced to create an entirely new molecule that could be used in APIs.
Ways in which this has advanced the field include:
Developing new products that have the potential to benefit patients around the world.
Improving cost effectiveness of the manufacturing process.
Improving efficiency.
Read our post for more on pharmaceutical manufacturing and R&D or find out more about R&D tax credits for the manufacturing sector.
---
Polymers
Polymers comprise of molecules joined together in long chains. There are many natural examples such as DNA and silk. Polymers can also be man-made.
Artificial polymers are varied, spanning PVC to siloxane, but it is plastics that account for a huge part of the chemical industry. In fact, they are said to account for 33% of the dollar value of the chemical industry.
Innovation in polymers
Synthomer is a leading UK chemical company that has a speciality in polymers. One of their products is a polyvinyl alcohol that is used as a suspension in the production of PVC.
50 years of R&D has gone into designing a unique process for polymerisation and hydrolysis. Benefits that they have sought and achieved in their product include:
Higher plant output.
Lower operating costs.
Lower polymer build-up in reactors.
Reduced downtime for cleaning and other maintenance.
Improved plasticiser absorption through homogenous porosity.
Reduced rejection levels in critical applications.
---
Composites
Composites are materials made up of two or more different parts that are either categorised as "matrix" or "reinforcement". They have significantly different properties that work together to become greater than the sum of their parts whilst never fully merging.
Because companies develop composites to unique specifications, they are a prime candidate to qualify for R&D tax credits. Some of the properties that may be engineered in a composite could include a lightweight, high strength, corrosion resistance, low maintenance and dimensional stability.
Innovation in composites
Victrex, a leading UK chemical company, is highly innovative in the field of composites. Their PAEK-based (polyether ether ketone) composites are designed for mechanically demanding application.
One of their most recent innovative products is a composite unidirectional tape and laminate panel range. Designed for the aerospace and injection-moulding industries they are reported to perform exceptionally under load. Some of the advances that it displays are a reduction in weight of up to 60% compared to aluminium, titanium and stainless steel of comparable strength.
In the aerospace industry, it is intended to provide superior material for the manufacture of some housings, clamps, clips and brackets. In injection-moulding it will help with over-moulding where it will reduce energy consumption, improve cycle times, get rid of the need for secondary process steps, save on installation expense and lower scrap generation.
---
Green chemistry
Despite playing a fundamental role in 21st century society, it is fair to say that the chemical industry does not often get a good press. Only recently, in early 2017, it was reported that harmful chemicals – banned in the 1970s – had been found in the bodies of animals at the deepest depths of the ocean. This is a stark reminder of the responsibilities that the industry has towards the planet.
Green chemistry could be seen as a response to the unintended environmental harm that the industry has done. A relatively new field, it goes further than just seeking to not be harmful, but proactively develops earth-friendly products and processes.
Innovation in green chemistry
An exciting example of this comes from Cornell University. They reported that just 2% of 78 million tons of plastic used annually for packaging were recycled.
One of the problems is that two of the main types of plastic – polyethylene (PE) and polypropylene (PP) – have different chemical structures and therefore cannot efficiently be recycled together.
The team at Cornell, in conjunction with a team from the University of Minnesota, have developed a potential solution. They have created a multi-block polymer that, when mixed as a small quantity with two incompatible plastics, forms a new, mechanically tough polymer.
Previous attempts have only yielded an inferior end-product polymer, so this is an exciting breakthrough that could lead to a commercially viable solution to this serious recycling problem.
Find out more about qualifying R&D and innovation in plastics.
---
Are you innovating in the chemical industry?
There are many different fields within the chemical industry, each with huge and continuous scope for innovation that could qualify for R&D tax credits.
Larger chemical companies (500 or more staff, and either turnover higher than €100 million or gross assets in excess of €86 million) can claim under the RDEC scheme which amounts to a tax credit of about 15% on qualifying expenditure on or before 1 April 2023. As companies of this size have large R&D budgets, this is very often a significant cash boost for them.
SMEs (defined as fewer than 500 staff, and either turnover not more than €100 million or gross assets of €86 million or lower) have an even more generous R&D tax credit. It is worth up to 27p for every £1 spent on qualifying R&D on or before 1 April 2023. For innovative SMEs, this can often mean tens or even hundreds of thousands of pounds recovered from HMRC.
ForrestBrown specialises in R&D tax credit claims so all qualifying expenditure is identified.  We are adept at working with clients new to R&D tax credits and walking them through the claims process. We also work with large companies, well-versed in the RDEC claim process. We offer specialist R&D support on a consultancy basis that complements the work done by their in-house finance or tax teams.
Get in touch
With one of the largest teams of chartered tax advisers in the UK that specialises in R&D tax credits, we are on hand to help you. Speak to us on 0117 926 9022.