At ForrestBrown, we're very close to the cutting-edge innovations that these businesses are creating. As such, we can say with certainty that government support in the form of R&D tax credits is helping them to build on success and continue to innovate.
We can also say that research and development breakthroughs in engineering occur across a huge range of vertical markets – with a special shout-out to software engineering, despite its remaining a controversial term to some in the field of engineering.
These are some of the most impressive recent research and development breakthroughs in engineering in the UK, across a variety of engineering disciplines – and a quick look at what else engineers are talking about!
Environmental Engineering
It's been a great year for environmental engineering research and development, with innovative environmental engineering companies making the front pages on numerous occasions.
We've been particularly impressed by achievements such as the breakthrough made by Edinburgh-based Artemis Intelligent Power in wind turbines, who won the MacRobert Award this July on the back of their efforts to improve hydraulic engines. Judges said that they had "done for hydraulic engines what James Watt did for steam engines", and the company is determined to make the mechanical gearboxes in conventional wind turbines obsolete.
The technology has applications far beyond wind energy, opening up a rich new seam of research and development opportunities in diesel engines, but is mostly significant as an amazing example of green UK engineering. With a potentially vast impact on the wind power industry, this company is set for greatness on a global scale. Edinburgh certainly has form when it comes to engineering innovation – Alexander Graham Bell was born in Edinburgh, while Sir Alexander Grant is said to have invented the digestive biscuit while living there.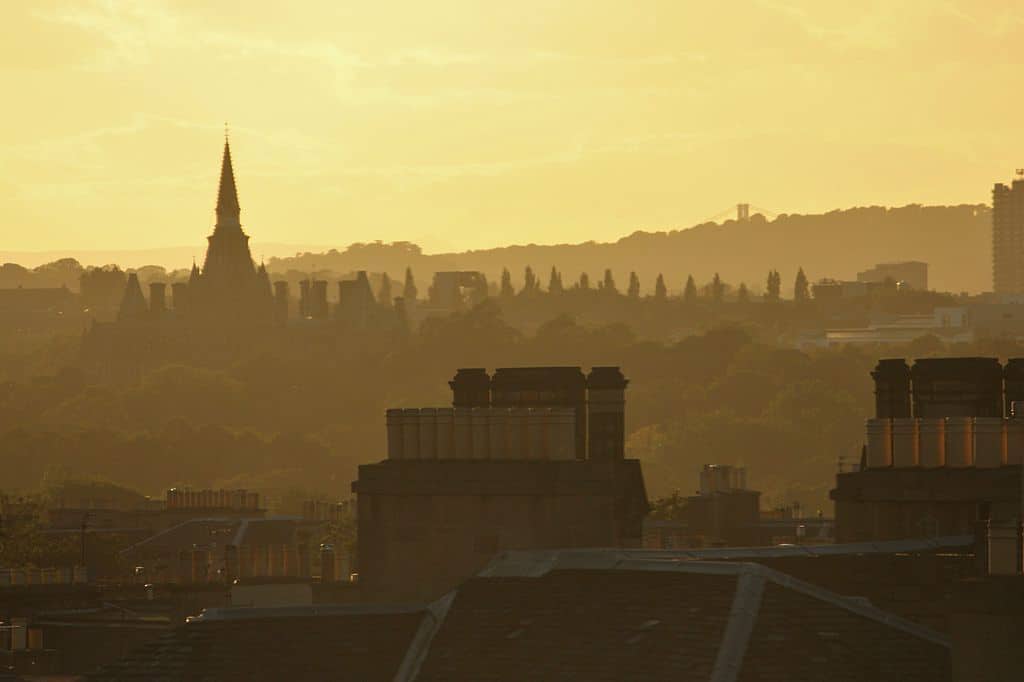 Edinburgh by postdlf
From one tasty innovator to another, TasteTech have been an incredibly inventive force ever since they were founded in the early '90s. They hit the news in 2012 when their work with 'Biobullets' resulted in the research and development of a fat-coated 'pill' of sorts that tricked an aggressive invader species, zebra mussels, into ingesting a toxin.
The toxin disappears completely from the environment within hours, making it perfect for use in the water system. Using this technology, thousands of man-hours, lots of government money, and untold quantities of water were all saved from being wasted due to the singularly unpleasant zebra mussel. Prior to the development, the costs incurred fighting off Zebra Mussels by Anglia Water alone exceeded £500,000 per year – taken as a whole, the cost to the United Kingdom was significantly greater.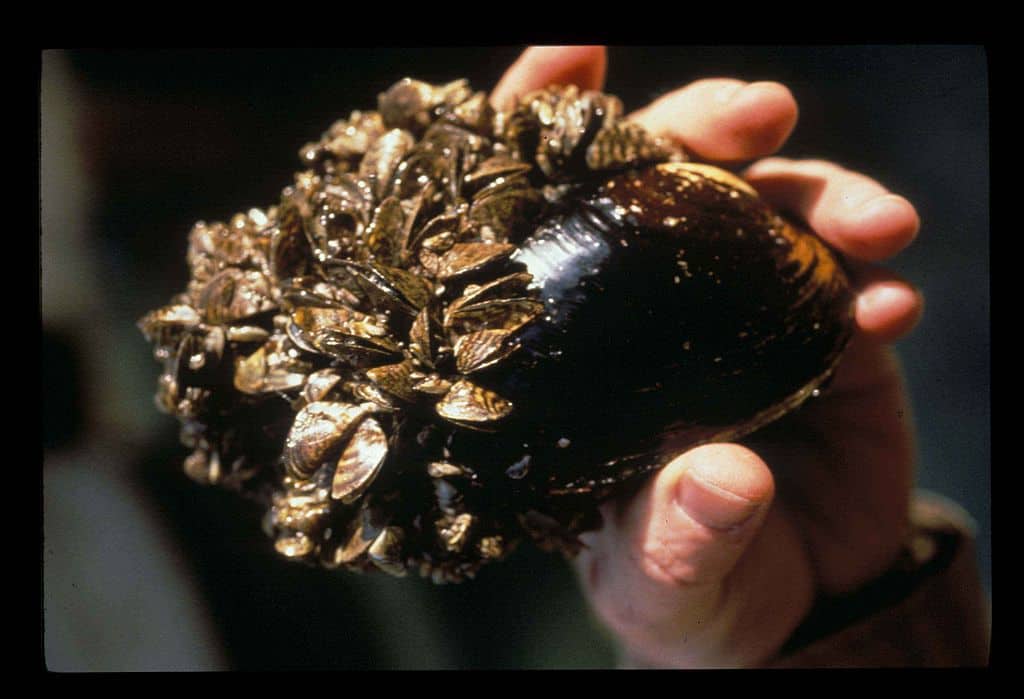 Zebra mussels growing on a native mussel
TasteTech specialise in encapsulation and slow release, and are an incredibly talented biochemical engineering company who've already done a lot for the environment. They continue to drive environmental efficiencies by reducing bakery waste with their encapsulated preservatives, which release slowly to keep food fresher for a longer period of time.
Civil Engineering
The UK architects Chetwoods Architects have successfully designed the world's tallest pair of towers, called the Phoenix Towers. Being the tallest pair of towers in the world, they will require extensive research and development into the unique civil engineering challenges that will arise. These challenges include dealing with the incredible structural loads that such huge skyscrapers have to bear, both horizontal as well as vertical, and dealing with the practical considerations of the buildings occupiers. Their great height, impressive though it may be, is not the only breath-taking feat of engineering that will be required for the towers to be completed.
These towers are designed to a high concept brief, and one of the requirements of this brief means that the 'male Phoenix', Feng, will provide cutting-edge renewable energy to the 'female Phoenix' Huang. This in turn means that Feng will be bristling with innovative solar panels, biomass boilers, wind turbines and hydrogen fuel cells.
Chetwoods Architects have a great record of innovation, having won the UK Industrial Research And Development Architect Of The Year Award, and having a consistent focus on sustainable design. While much of the R&D will be architectural, the implementation details will involve a huge amount of civil engineering R&D. RIBA have spent many years advocating the benefits of R&D tax credits for UK-based architectural practices but a bafflingly small number of architects take advantage of the relief each year.
Aerospace
Aerospace engineering is, by its very nature, always moving onwards and upwards – and sometimes that innovation takes us to strange and wonderful new places! In the UK, especially, companies like Surrey Satellite Technology Limited are busily making giant leaps for mankind.
From a steampunk-like airship designed for the modern world to researching and preparing for a fully operational UK spaceport, the future of aerospace in the UK is looking ever more diverse and fascinating.
The airship in question, designed by Bedfordshire-based Hybrid Air Vehicles, differs from old-fashioned airships by generating lift with its unique shape in addition to generating lift with lighter-than-air helium. It's also significantly smaller than traditional airships (although it's a sight larger than most contemporary aircraft), and with a nearly 100mph top speed is expected to be between 10% and 25% faster than older dirigibles such as the ill-fated Hindenburg, depending on which historical sources you believe.
The real benefit of this innovation, though, comes from its abilities to carry huge payloads great distances, hover in place, and consume minimal fuel while doing so. This makes the Airlander 10 one of the great hopes for sustainable air travel as well, and potentially in some ways a competitor to smaller freighters.
Originally slated for the US army, they've returned to the UK and benefitted from the favourable attitude towards research and development both within the UK and within the wider EU. The company attracted the attention of Iron Maiden frontman and noted pilot Bruce Dickinson, who has invested some of his money with the company to help them bring their revolutionary design into operation.
Moving more towards the 'space' section of aerospace, plans have been in the works since 2014 for a commercial spaceport to be built in the UK, enabling our home-grown space flight programs to really excel and grow.
Spaceport support is growing, and six airfields are currently in contention. While the maiden voyage is still some way off, it seems likely that the challenges that the project present will mean many of the companies working on and around the early-stage development will be able to recoup their R&D spend.
Materials
Recently, MIT engineers have created a new sort of material that could function as a smart plaster. As a sticky and stretchy hydrogel, electronics can be embedded within the material from semiconductor chips to LEDs.
The thinking is that this new substance could provide useful information such as communicating when a drug is running low, or even deliver medication directly to a patient as and when it is necessary. The hydrogel, being primarily water, could even be used inside the human body – for example, to monitor the blood glucose levels of people with diabetes. Xuanhe Zhao, one of the paper's authors, hinted that it might also have applications within the brain – where it's softness and pliability would be a significant advantage.
The materials represent a genuine step forwards in materials engineering because most hydrogels have properties that are almost direct opposites to those demonstrated by this particular hydrogel. Rather than being sticky and stretchy, a typical hydrogel sticks weakly and is quite brittle, and are really not very stretchy at all.
While programming in medicine is fraught with risk, the risks are by now fairly well-understood, and should be manageable.
A Modern Tesla?
One of the traditional sources for groundbreaking engineering and scientific breakthroughs has been highly driven individuals, such as Nikola Tesla, Thomas Edison, Isambard Kingdom Brunel and George Stephenson. A modern Tesla may yet produce the engineering breakthrough of our generation, and the obvious place to look for such a breakthrough would be Elon Musk, CEO of Tesla Motors.
Not only is Tesla Motors' work on electric cars truly innovative, SpaceX is generating real results and real public interest in a modern corporate space race, and his Hyperloop is slowly moving from the realms of the impossible to cautious consideration.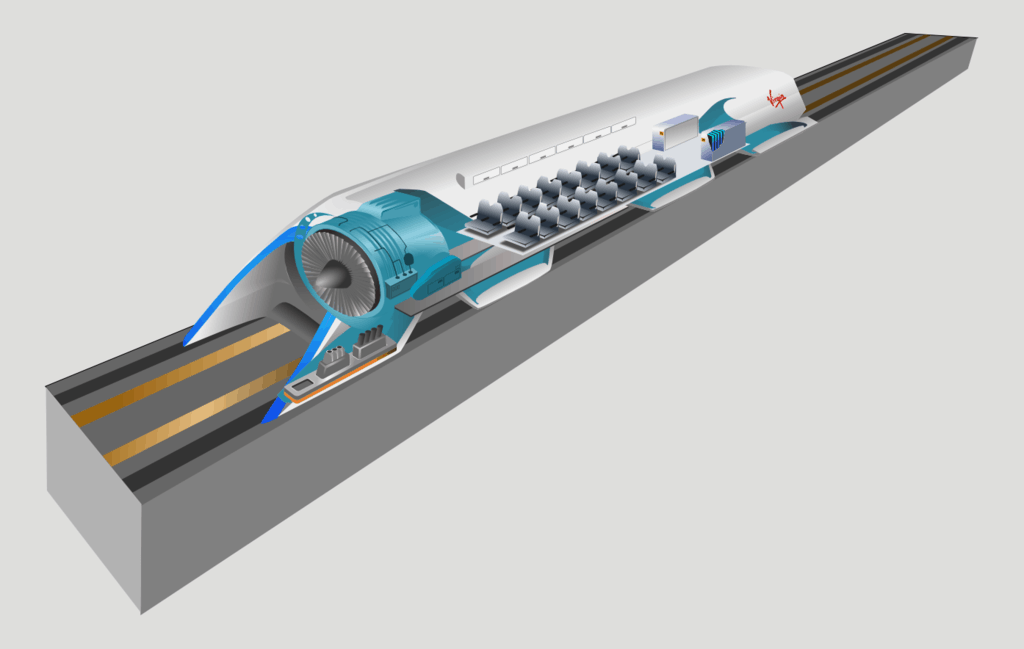 Hyperloop cutaway concept illustration by Camilo Sanchez
There is just as much advanced research and development involved in building upon the prototypes and inventions that such people create as there is in making the initial breakthrough. The big personalities of the big tech centres could well help to usher in a new age of rapid development and incredible scientific and technical advancements.
Issues In Engineering
Some important issues in modern engineering came up time and again in the course of this article. Environmental concerns, for example, represent a significant target for engineering research and development in the United Kingdom, while civil engineering continues to generate exciting innovation from the specific, unique requirements each separate project will have.
Beyond the common issues, there are some specific issues within engineering that are stirring lively debate across its many disciplines.
In civil engineering, debate over the New Austrian Tunnelling Method has continued since the sixties, and has recently re-opened – in part because of the success of the Norwegian Tunnelling Method in building huge amounts of tunnels across Norway very cheaply. About the only thing anyone can agree on about the New Austrian Tunnelling Method is that it involves tunnels – there's been discussion over whether it's new, Austrian, or even just a method.
Another debate has opened up over the viability of an old engineering challenge – drilling through the Earth's crust and retrieving samples from the mantle, most notably attempted by Russian scientists at the Kola Superdeep Borehole.
Meanwhile, accidents involving drones and concerns about privacy have led to the engineering of anti-drone technology, marking the beginnings of a very futuristic arms race.
Carrying Out Engineering Research And Development?
We've highlighted in the past that engineering and construction companies in particular don't seem to be claiming as much R&D tax relief as they could. There are a few reasons this can happen, with one of the most common being that the companies have heard inaccurate information about R&D tax relief somewhere along the line. As R&D tax specialists, we at ForrestBrown are perfectly positioned to correct such misapprehensions and get companies the tax credits or tax relief they are entitled to.
It's also common that engineering experts are often modest and don't realise that they're operating at the cutting-edge, or don't appreciate the extent of their innovation. A deep familiarity with the subject matter might lead an engineering company to omit or forget some very valuable research and development that was carried out entirely within HMRC's R&D tax guidelines – we're particularly good at spotting this kind of R&D tax opportunity and helping companies to make the most of it.
If you're carrying out engineering research and development, or think that you might be, get in touch with us by phone or email to discuss your situation with our dedicated R&D tax specialists.