On Friday 27th November the team descended on the iconic Vinopolis, in Central London, for the awards ceremony, with a reputation for unearthing entrepreneurial businesses and shining a spotlight on the UK's bustling start-up market. 
The national awards recognise the UK's most creative, innovative and ambitious new businesses, and are open to companies that commenced trading less than four years ago.  Previous award winners include Secret Escapes, Naked Wines, Glasses Direct, Ella's Kitchen as well as the Raspberry Pi.
The 2015 nominees featured Purple Bricks, Tropic Skincare, MOVE Guides, Grub Club, HonestBrew and Appear Here and ForrestBrown were delighted to be recognised alongside such a formidable list of disruptive start-ups.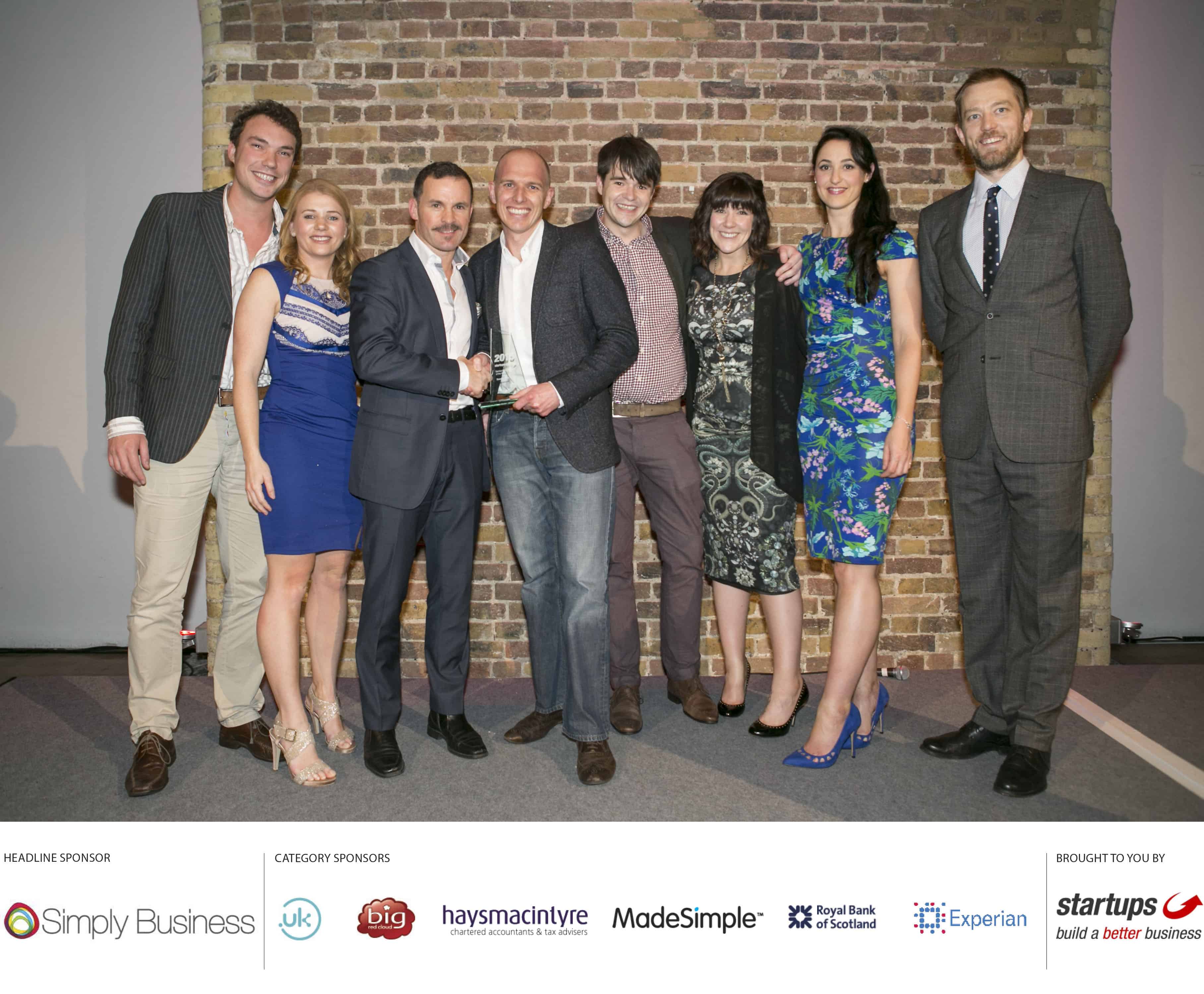 ForrestBrown's managing director Simon Brown (centre) is presented his award by Marc O'Dwyer of Big Red Cloud, accompanied by ForrestBrown team members and comedian Alun Cochrane (far right).
Simon Brown, ForrestBrown's Managing Director commented:
"We've worked incredibly hard this year and the team are delighted to have been recognised by the Startups Awards, joining the ranks of some of the best-known start-ups of recent times. With the very nature of our business, we work extensively to support the start-up community, and it's fantastic that some of the hugely valuable financial support we provide has been rewarded. Many start-ups still fail to take advantage of the hugely valuable benefits that R&D tax credits offer, and this award should help to raise the profile of HMRC's scheme amongst those businesses with the most to gain."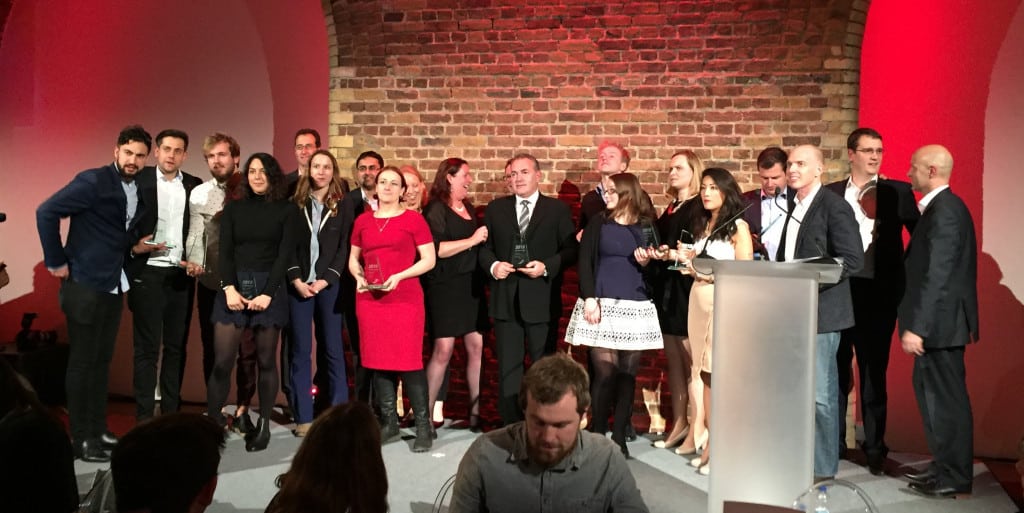 ForrestBrown managing director (third from the right) on stage with the other Start-ups 2015 award winners
David Lester, founder of Startups.co.uk, commented: "Congratulations to ForrestBrown on their well-deserved win in this hotly contested category. In 2015 we welcomed more entries than ever before, so this year's finalists truly are the best in their fields."
"This evening has shown what the UK has to offer in terms of high-quality and innovative start-ups, which are shaping the way for future talent. I predict bright futures for all of our shortlisted and winning companies – watch this space..!"
The full list of Startups Awards 2015 winners is: 
Simply Business Startups Business of the Year: Appear Here
People's Champion: Cornerstone
App of the Year: minicabit
Crowdfunded Business of the Year: Berrywhite
Export Business of the Year: Frog Bikes
Franchisee of the Year: Schmidt Palmers Green
Innovative Business of the Year: Purplebricks
Lean Start-up of the Year: Nutriment
Product Business of the Year: Tropic Skincare
Retail Business of the Year: Gousto
Service Business of the Year: ForrestBrown
Tech Business of the Year: Purplebricks
Venture Funded Business of the Year: Appear Here
Women in Business Award: Swoon Editions
Young Entrepreneur of the Year: PROPERCORN