The latest phenomenon within the world of romance is, without a doubt, the introduction of mobile dating apps. In recent years, the quest for love for many has been assisted by a combination of the Internet and a mobile device.
While online dating websites have existed for well over a decade, dating apps like Tinder, Bumble and Hinge are still quite new to the scene. Despite their infancy, they are already having a profound impact on people's love lives.
Due to the new and innovative technology being developed by mobile dating app companies, they may well qualify for research and development (R&D) tax credits which can provide a significant boost to cash flow. This offers the chance to reinvest in R&D and push the boundaries of technology even further.
Mobile dating app companies are of interest to venture capitalists. They are viewed as businesses that, with the right cultivation and guidance, may offer a significant financial return. Investors, of course, expect to see every opportunity for financial support (like R&D tax credits) being used to help their companies succeed.
At ForrestBrown, we specialise in delivering R&D tax credits for innovative companies that are performing research and development within their industry.
Dating apps and online dating
Tinder has revolutionised the online dating experience by exclusively existing as a location-based dating app. It created the 'swiping' notion as a means of deciding whether the profile being viewed is a suitable match. This has become a form of 'super-speed' dating, enabling users to filter out unsuitable matches within seconds.
The key difference between dating apps and online dating is that the former is instantaneous, compulsive, and viewed as a bit of fun; something to do whilst waiting for the bus. Online dating on the other hand is considered to be a bit more serious, with more emphasis put on writing detailed profiles.
Since the success of Tinder, a flurry of apps have been developed in order to meet the demand of singletons all over the world.
Unlike the stream of profiles that are present on swipe dating app Tinder, an app for the more selective and discerning is Coffee Meets Bagel. This particular platform operates by limiting the number of matches shown a day, basing these on your mutual interests and romantic preferences.
Also contributing to this growing pool of mobile dating applications, are apps for specific markets. LGBT apps such as Grindr, Surge and Her provide the dating experience to a specific demographic, facilitating their journey in finding a partner.
For those who consider looks and personality to be of equal value, Sapio could be the app for them. Their 'question explorer' allows users to investigate the personality of their matches. It has tools to pose questions that matter most to the user to their matches, and then sort the answers based on quality and a range of other criteria.
There's even an app out there for people with a penchant for bearded men. It's called Bristlr in case you are curious.
Dating technology
Mobile dating apps use big data analytics and algorithms to enhance the quality of their service. Some integrate with social platforms, providing rich data sources to improve user experience. Most of the popular dating apps already require the user to login via Facebook, saving the user time in setting up their profile whilst simultaneously providing the app with a reliable source of identification and information.
Apps such as Instagram and Spotify have also been integrated with a number of dating apps in order to give users a fuller picture of who they have matched with. This also helps to reassure them that their match is not an impersonator.
Unfortunately, these apps have now become the target of scammers, who use bots and fake profiles. Scams include attempting to con users into transferring money or clicking on questionable links. These fake profiles pose an issue for dating app developers, who strive to keep their apps legitimate. After all, users will stop logging into the app if all they ever connect with are bots and fake profiles.
Dating app algorithm
Mobile dating apps are developing and constantly evolving through the use of specific algorithms, all in an effort to deliver as many suitable matches as possible.
Algorithms have long been used in the world of computing and technology – and dating apps are no exception. Written in code, dating app algorithms set rules and processes which the platforms follow to make matches.
Advanced dating app algorithms use machine-learning technology which, over time, understand users' preferences, interests and the type of person they want to match with.
Apps such as Tinder do not wish to show the same lists of people to everybody using the app. Therefore, the developers have proactively written dating app algorithms to randomise potential matches, creating a feeling of spontaneity and fluidity.
Another function of some online dating algorithms is to create an 'our recommendations' feature – rather like how Amazon and eBay recommend products based on a buyer's purchase history. Dating apps follow the same process, but simply trying to predict who the user will want to date by analysing big data.
OkCupid, having been present on the online dating scene since 2004, is a prominent developer of dating site algorithms. Rather than exposing a user to a long sign-up process by forcing loads of questions on them, it asks seven simple questions and then sets its algorithms to work to find matches. The user can then dip into a bank of hundreds of additional questions at their leisure. Doing so gives the algorithm more data to work with to find better matches.
Dating app Hinge has developed an algorithm it calls 'romance graph'. This does some clever things in a bid to find better matches. For starters, it only shows you friends of Facebook friends, so there is some second-degree connection from the off. It also pulls background information from Facebook, like what university you went to, to better inform the matches. Going further than that it uses big data analysis to look at trends of what types of people pick each other and then applies the results to its suggestions.
How do dating site algorithms work?
Dating app algorithms operate through collecting personal information i.e. name, age, location, preferences, and then applying parameters to this data to create a results list.
For example, OKCupid's algorithm works by learning a user's answer to a question, how that member would like someone else to answer that question and how important the question is to them. A percentage score is created which informs the app how likely two people are to match.
Due to the R&D performed by mobile dating app companies, the algorithms used in these platforms are constantly being refined and improved. Data from facial recognition, GPS, text analysis all may be included within algorithms.
Dating app data
The use of big data is becoming increasingly important to online dating apps and how they operate. As we explained in the case of Hinge's Romance Graph, big data can be analysed to reveal patterns, trends and even study how people interact with one another – all in the name of finding better matches.
Artificial intelligence (AI) plays a significant role in how dating apps are used and operate. AI programs learn user preferences to save time or find better matches.
One example is London-based Bernie. It uses the latest development in machine learning and natural language processing to learn, in their words, a user's 'type'. Bernie's AI is touted to save time by filtering a user's matches and doing the swiping for them.
Challenges dating app developers are looking to solve
For tax purposes, R&D involves companies taking a risk by attempting to resolve scientific or technological uncertainties.
In the world of dating apps, there are a whole host of technical challenges to resolve, including:
Security – personal security is a great concern. Some users can be dishonest about their appearance and identity.
User experience – if an app is difficult to use, doesn't give people what they want, or contains glitches, people will quickly switch to one that works better.
Meeting user needs – different people will have different expectations in what they are looking for from a dating app. One user might be using it to find someone to spend the night with, whilst another could be trying to find a long-term partner. Developers should ensure this is reflected in their proposition.
Privacy – users need to feel as though their privacy is protected and that they will not be harassed.
Monetisation – developers must find a way to make money out of the app whilst also keeping their users satisfied with the service. Tinder, for instance, has a free and premium fee-paying version.
Integration with other apps/platforms – many of these apps are now partnering with other apps such as Spotify and Instagram, requiring extensive R&D to produce effective API's.
Social elements – the messaging feature must always be reliable, useful and easy to use.
Hacking the apps – putting up an effective defence against people gaming the apps for their own purposes. This blog details how one person did that and, in her own words, became the most hated woman in Toronto.
Innovative dating apps
New, innovative dating apps are attempting to overcome some of these challenges.
Apps such as Hinge focus on the user's Facebook friends, offering an extra level of security to prevent issues regarding identity fraud. This certainly helps to reassure the user that they are not communicating with an impersonator.
The main feature of Happn is its location-based technology, allowing the user to interact with potential suiters they have walked past in the street, or were within a close proximity to.
When you walk past another user, Happn will later bring up their profile, showing approximately where you passed them. This dating app also utilises voice search, permitting its users to record a one-minute audio clip to complement their profile. This feature counters the threat of fake bots operating on the app.
Coffee Meets Bagel is an innovative location based dating app that limits the matches it sends each day. One innovative tool it has launched is an A/B split tester that allows users to test profile photos. They post two on the app and let other members vote on which represents them in the best light.
Adding to the line-up of online dating apps is JigTalk, encompassing a less superficial approach to mobile romance – prioritising a conversation over profile images. Using this dating app, which launched in January 2017, a pair of matches begin messaging whilst their profile image is covered up by 16 jigsaw pieces. Each message sent removes a piece of the jigsaw until the users' faces are revealed.
Dating app Zoosk uses behavioural matching technology to continuously analyse the activity of their tens of millions of members, forever refining their matches. This creative use of AI and machine-learning clearly indicates the level of R&D being performed by dating app companies.
Sadly, Internet trolling is an issue of our time. A mobile app development company that has consciously found a way around this is Bumble.
Despite two people matching, conversation can only commence once the female has sent the first message. This again creates a heightened sense of security through a stringent filtering process and reassures the woman that she is communicating with someone she is comfortable with.
Apps that analyse the quality of relationships
There are apps now designed to analyse and 'auto-manage' relationships. This is yet another use of AI within the dating world, facilitated through extensive R&D by mobile app developers.
pplkpr is one such app. Through the use of a smart wristband which monitors heart rate and location, pplkpr analyses the user's emotional and physical responses to the people within their vicinity. When it notices heightened activity, it asks the user to report details which it then aggregates and analyses for trends. The technology to monitor heart rates previously existed, yet through R&D, this technology can be applied to the mobile dating industry.
StayGo utilises a combination of science and social networking to determine the compatibility between its users. It is aimed at users currently dating and uses complex algorithms to gather and evaluate data such as what your friends think of your relationship – whether you should stay… or go!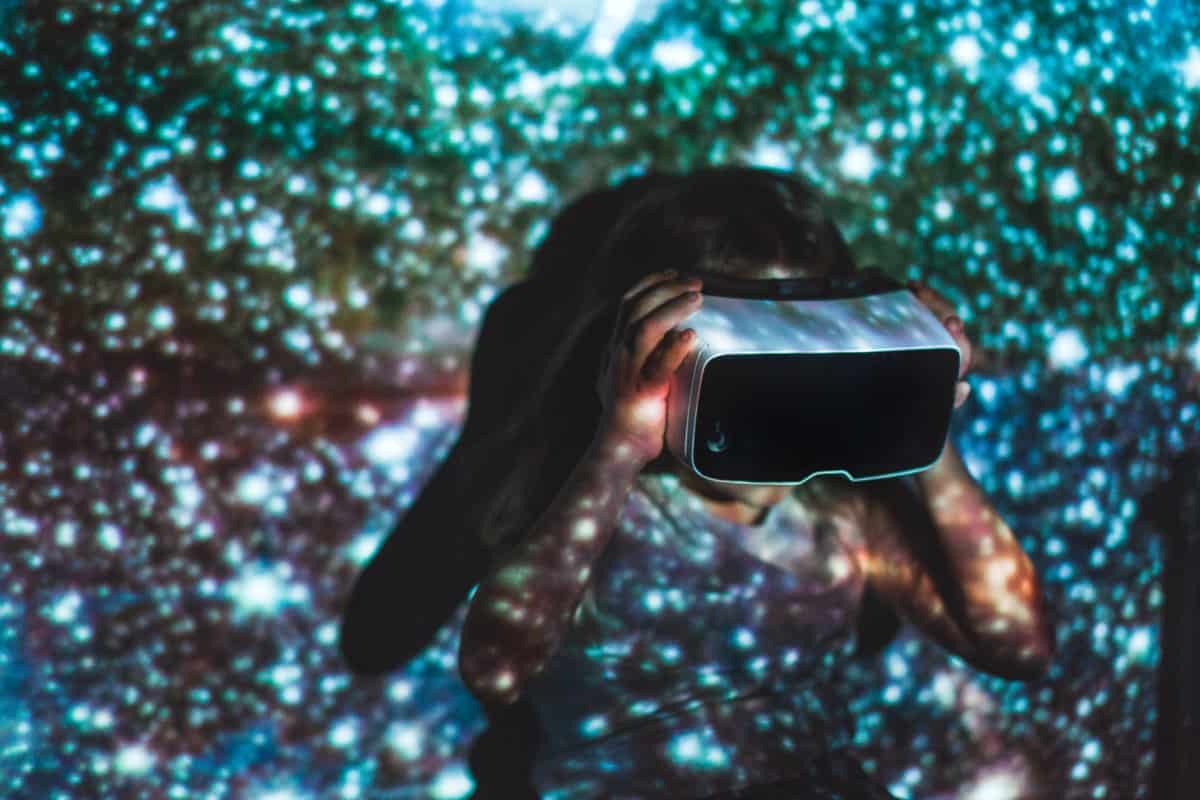 The exciting use of virtual reality technology
After numerous false starts, virtual reality technology hasn't turned our lives into an episode of Star Trek so far. But is that about to change?
The future of dating apps
Artificial intelligence is becoming ever more incorporated into technology and dating apps are no exception. AI enables these platforms to recognise their users' movements and preferences. Mobile app developers are using this to enhance the user experience by providing better matches.
Another trend will be in attempting to resolve concerns surrounding security and data collection. This is an issue for just about all e-commerce and online businesses, so it will be interesting to see how dating app developers drive innovation in this field.
The Internet of Things (IoT) is increasingly impacting our lives as everyday objects are connected to the Internet. This is already having an impact in this sector, as we see with pplkpr and their smart wristband. The opportunities that IoT presents is sure to be a fascinating area of R&D for some mobile dating app companies. Who knows, one day your washing machine may be advising you on your love life.
Virtual reality and augmented reality are big trends right now.
In 2016, Tinder bought a company called Humin which specialised in working out the context behind social connections. What Tinder does is already described by some as a form of augmented reality: it overlays information about people nearby you to help make connections. By incorporating the Humin technology onto their platform, there is the potential to take this to another level. It may perhaps even assist Tinder in stepping beyond the dating market into a wider 'connections' market.
eHarmony predicts that VR will be the norm in online dating by 2040. It would provide a safe space to 'meet' someone before a real-life introduction, and would potentially offer much more efficient ways of building those foundations of a relationship than messaging currently offers.
Location-based technology is certainly ingrained in the future of dating apps due to the development of beacon technology. Mobile devices monitor for beacons in the physical world, and when they pick up a signal respond accordingly.
One of the latest such apps is Cheekd, which uses Kiosk software, devised by NewAer. Through the use of beacon technology, this mobile dating app encourages its users not to miss potential connections. The app instantly notifies the user if a possible match is within 30 feet of them, thus giving people the chance to connect in real time.
Dating apps and R&D tax credits
With 50 million users and the average user spending 90 minutes a day on Tinder alone, it is evident that an incredible amount can be gained from the development of dating apps.
If a company is performing R&D and facilitating the advance of science and technology within its field, it could qualify for R&D tax credits. As this article has demonstrated, there are many different ways this could be applicable to dating app development.
A company may qualify if it's constructing its own technology, building on top of existing technology, developing new tools, or improving processes.
When R&D is taking place, staff and subcontractor costs and some other expenditure like, for example, the electricity attributable to the R&D, can be used to calculate the value of the R&D tax credit.
For a business performing research and development, R&D tax credits can be a huge benefit to cash flow. They can be used to help fund new staff, or invest in further R&D and so create a positive innovation cycle.
At ForrestBrown, we assist companies every step of the way in the process of claiming R&D tax relief. Our robust methodology places strong emphasis on claiming the correct amount. We spend time with you to ensure all qualifying activity is included, but are careful not to overclaim.
Get in touch
It's certainly worth seeing if you can qualify – the average claim value for SMEs is more than £50,000. So speak to us on 0117 926 9022 to find out more.