From virtually the moment the first lockdown was announced in March, we witnessed invention born out of necessity. Those who could, quickly moved their businesses to remote working. For others: payments went digital, delivery services were added, enterprise hubs and unlikely partnerships sprang up. Distilleries became hand-gel producers. Construction workers got to grips with social distancing on-site. Pharma businesses joined the rush to develop a vaccine.
The adviser our clients needed us to be
ForrestBrown's mission has always been to help British businesses like these to thrive through research and development (R&D) tax incentives. This year that mission took on an added importance.
In the era of COVID, businesses needed ForrestBrown more than ever to secure vital funding as they responded to the major impact of the pandemic on their plans. R&D tax credits helped our clients to innovate – to take risks, to hire skilled technicians and to grow despite all that happened in 2020.
This is why I am so proud to say that during the first lockdown, we did just that. We helped UK businesses like yours secure £42 million in R&D tax relief during the lockdown.
A charity fundraiser
Not only has this well-timed benefit helped businesses, but it has also supported our charity of the year Penny Brohn. Penny Brohn provides free, integrative care to everyone living with cancer, before, during and after treatment.
If companies have had it tough, charities like Penny Brohn — who rely on donations and fundraising events — have also struggled, to say the least. That's why, for every R&D tax claim we submitted this year, we donated a portion to this wonderful local charity. We held a virtual fundraising tea round and we pitched in with some socially distant gardening at Penny Brohn HQ.
Shoulder to shoulder with accountants
We know that many accountants in particular have had a particularly tough year. Faced with a tidal wave of demand for their services, they were required to quickly get their heads around emergency funding, while also moving to remote working and still facing the same uncertainties 2020 held for us all.
This year necessitated new forms of State Aid, from furlough through to government-backed loan schemes. Staying ahead of all the changes wasn't simple, but we were only too proud to help accountants and their clients make effective use of R&D tax relief and the different COVID–19 businesses supports.
ForrestBrown during lockdown
We moved to a remote model early-on to minimise the risk to our team. It was uncharted waters for us, but I'm immensely proud of how each and every ForrestBrown-er stepped up in challenging circumstances. Not only did they continue to work tirelessly for our clients when asked to move quickly to remote working, they found ever-more imaginative ways to keep each other's spirits up.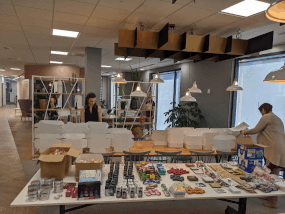 With love from me to you
ForrestBrown's People Team prepare care packages for remote-working colleagues
This year we've also been excited to start supporting businesses in different ways. We've taken on more consultancy projects focusing on specialist issues that have delivered significant value for our clients. I'm really excited to see where this takes us as we continue to evolve our service offering in 2021.
Still growing, still putting people first
During the COVID–19 disruption, we continued to look for talent and hired 10 new team members We also placed a renewed emphasis on employee wellness. The investment in collaboration software like Slack and Microsoft Teams has also helped them to work tirelessly for our clients from afar.
It was on those platforms that the team found ever-more imaginative ways to keep each other's spirits up. Virtual communities sprung up around yoga and meditation; Bootcamp exercise classes; a variety of #ratemy channels — where ForrestBrown-ers could share pictures of their walks, pets and even plants. A ForrestBrown running club completed the entire length of Route 66 – virtually – in just six weeks!
Leading our industry
I've always genuinely believed R&D tax incentives have the transformative power to help innovative UK businesses grow. However — like others — I've watched with dismay, as more and more self-styled 'advisers' have entered the market, offering spurious advice at knock-down prices.
We began to wonder what could be done to help prevent too many businesses falling foul of bad advice and decided, first off, that business leaders need to be alerted to the situation. So we partnered with YouGov to ask businesses already claiming R&D tax relief some searching questions.
I can't state how highly it was the right choice we came to you guys. It's been a rare occasion that I've come across a firm that had mastery of their field comparable to ForrestBrown.

Martin Davis, FD at Zenobe Energy
The results/responses confirmed that there are too many businesses sleepwalking to disaster with their R&D tax claim. Our report of the same name highlights the dangers and provides a plan to mitigate the risk to your business. We invite you to reflect on this as we attempt to guide as many businesses as possible safely through this challenging time.
A world beyond COVID-19
I strongly believe innovation holds the key to successfully navigating the later stages of the pandemic and accompanying economic challenges. And as we head into 2021, we look forward to bouncing back stronger than ever with you.
Merry Christmas and a Happy New Year.