ForrestBrown has partnered with an established finance institution to offer its clients a new source of funding that does not dilute equity.
High-growth SMEs focused on research and development can now use their future R&D tax credit as security to draw down a prepayment loan worth 80% of the claim value. That's cash that could spark the next big project to drive ambitious growth; fund the final push in creating something remarkable; delay a funding round until a higher valuation is achieved.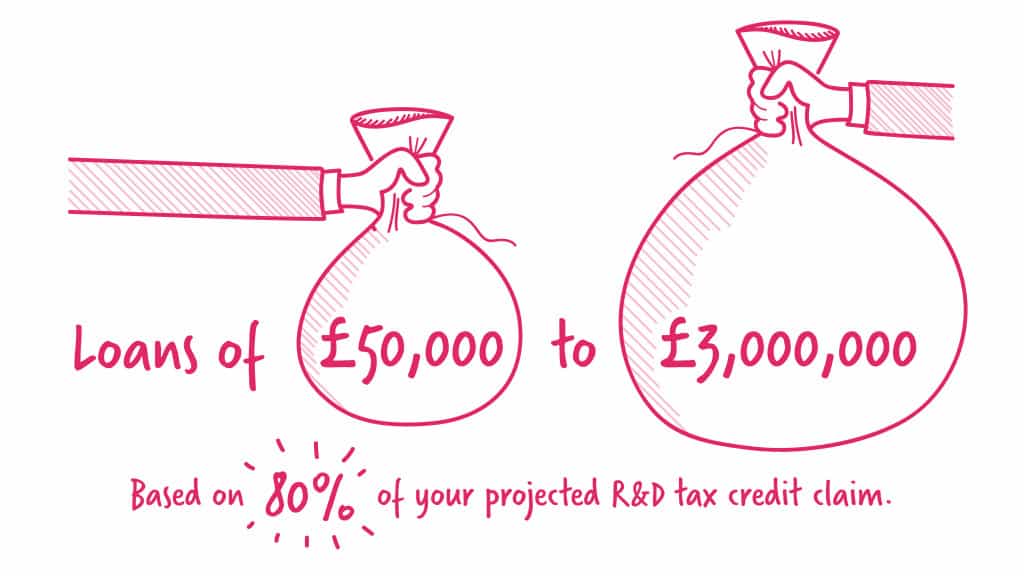 Who is it for?
This bridging finance product is for SMEs in a period of high-growth and high-spend. Companies that are investing heavily in research and development and want to fast-track their plans by extending their cash runway.
For R&D tax credits, an SME is defined as a company with fewer than 500 staff and either less than €100 million turnover or €86 million gross assets. More detailed information about who is eligible for R&D tax credits can be found on our R&D tax credits explained page.
Five reasons high-growth SMEs will consider this R&D bridging finance
You need to improve your cash flow when you are spending money on your R&D.
You need cash but wish to defer accepting your R&D tax credit until you are making a profit at which point it will be about 30% more valuable.
You need to extend your cash runway to stretch the time between funding rounds.
Alternative funding options are not desirable.
You need final R&D funding to get your project over the line.
Bridging loan R&D eligibility checklist
To be eligible, you need:
Up-to-date accounts.
No bank or other borrowing facilities in place.
No HMRC debt.
How does it work
We anticipate this product will be most useful for companies wishing to access R&D funding against their current year R&D activity.
You will be allocated 80% of your expected R&D tax credit value. The sum can be drawn down in quarterly or half-yearly installments based on the projected R&D tax credit value generated in that period. So if this was £50,000 for the first quarter you would receive £40,000. Then if it was expected to be £100,000 in the second quarter you would receive £80,000. And so on.
Set up fees are paid up front, interest is paid monthly and the capital repayment is made directly from the tax credit received from HMRC.
There is an option for short-term small business funding for R&D tax credit claims going through for the previous year. And also for longer-term lending based on fully budgeted R&D plans for the following financial year. These work slightly differently and you can contact us for details if they are of interest.
How much it costs
The fees for this bridging loan are:
Set up fee: 5% of initial prepayment amount
Interest rate: 1.25% – 1.5% per month
In certain circumstances, other fees may be chargeable:
Annual review fee (if prepayments are required in future years): £1,000 – £2,000
Line fee (if an annual facility with monthly drawdown is provided but not used): 4% on undrawn funds
What to do next
If you decide to proceed, the loan will be approved within ten days of application and paid within 48 hours of approval. To find out more about our R&D tax credit prepayment service, please contact our director Adam Kotas at hello@forrestbrown.co.uk or on 0117 926 9022.