There was a time when we were able to welcome a new employee with their own blog post introducing them to the company. ForrestBrown has been in business since September 2013, and that trend is now impossible to continue.
So now we check in with our latest hires at key milestones. And we're pleased to say that we have reached one this month. As we've just hired our 50th employee.
0-50 in under four years. That's some going for a high-skilled organisation. Commenting on the landmark, our founder and managing director Simon Brown reflected:
I've never had a goal of hitting 10, 50 or 100 employees. 50 is a fantastic milestone, but we have always hired based on the volume of work coming in. I actually think if you set goals, they can end up being restrictive.

A lot of the hires we have made in the last 12 months have been in support roles. They could be seen as an investment in the future, but also responding to our clients' needs. We are sourcing niche technical expertise to be able to enhance the knowledge and advice we can offer to our clients.

And it is by no means just about the volume of new hires. We are bringing in experienced, strategic recruits with considerable technical firepower as well as the next generation of tax associates. And alongside that we are investing heavily in training.

I remember being told two pieces of advice years ago, that have both proved to be true.

First, 'always hire people who are better than you'. We have a great tax team and my leadership team take care of the day-to-day running of the company. That frees me up to focus on strategy – which I really enjoy.

Second, 'if you create space, it will get filled'. This has certainly been the case: the more we hire, the more demand has grown for our services. Of course, the advice implies that this is not happenchance. Growing the workforce generates an energy and motivation to grow the business.

I may not have set goals when it comes to hiring, but we are certainly not stopping at 50. We have just invested in a bespoke careers website which communicates the ethos of the business and what it takes to be a ForrestBrown-er perfectly. And over the coming months we will be launching targeted recruitment campaigns. So, exciting times ahead.

Simon Brown, founder and managing director
March arrivals at ForrestBrown
Let's introduce our new joiners. First up we have John McGhee, James Evans and Andrew Royce. Despite the photo, they are not a boy band (sorry chaps!).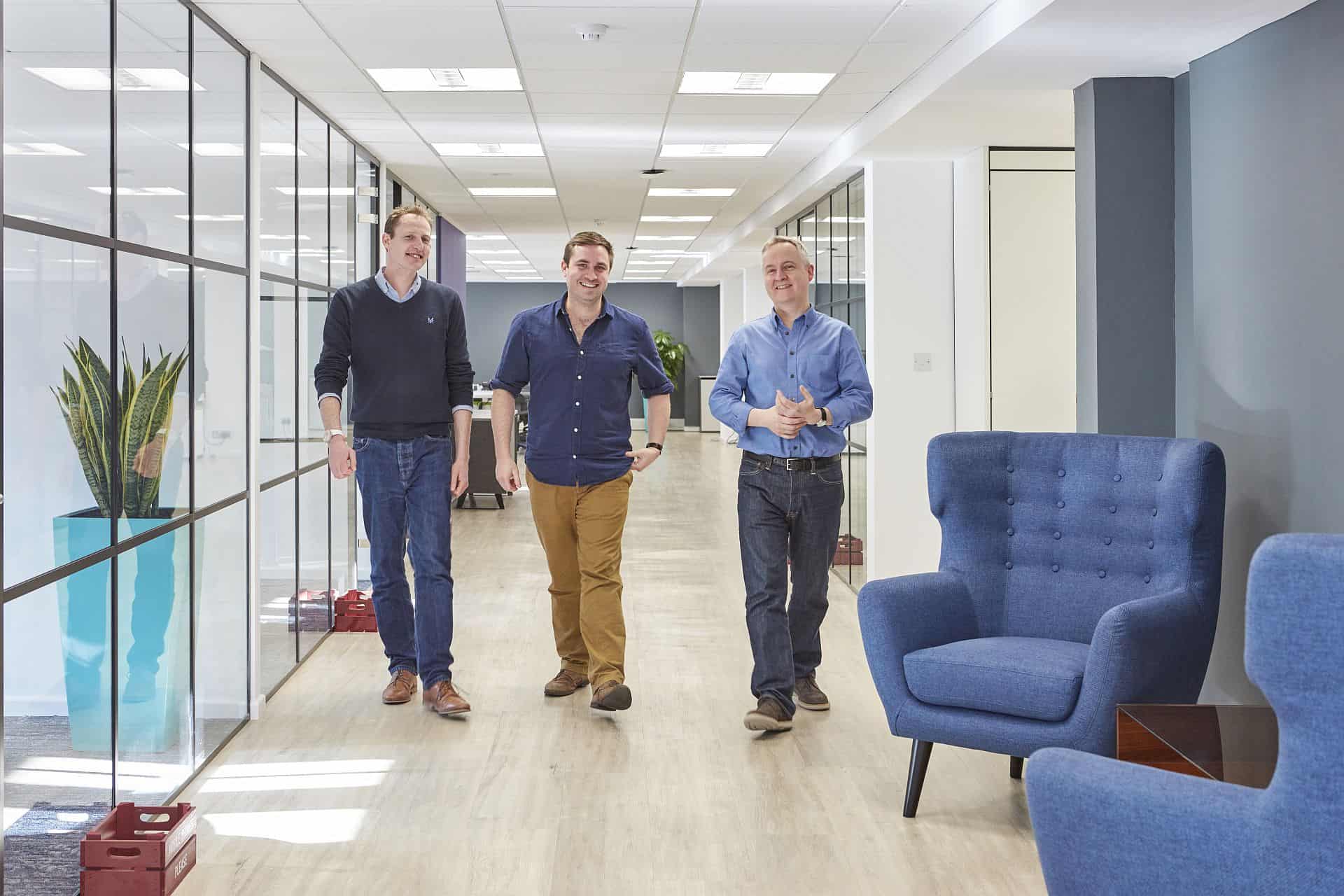 John is a tremendously experienced tax adviser whose 20-year career spans PwC, Deloitte and 13-years at EY. At EY he worked in the human capital team and led a global mobility unit for two and half years.
At ForrestBrown, John will be working within our quality assurance team as well as developing relationships with our partners. Using his leadership experience in the tax industry, he will also be contributing to our people development within ForrestBrown. John has a long-standing interest in renewables and alternative fuels. He got on board early with this by driving a Mark I Toyota Prius.
James Evans takes a new role at ForrestBrown: front of house. As we have expanded over two floors of our headquarters at Grosvenor House it became ever more important to coordinate visitors coming in and out of the building. James was the perfect fit for that and is the face and voice of ForrestBrown to people who visit our offices. He meets and greets clients and takes care of everyone in the building.
Andy Royce made up the March trio, and he joined us as a tax associate. After completing a law degree at the University of Nottingham, Andy worked in the legal expenses insurance industry. Now he is progressing through our Learning Lab as he works towards his ATT qualification.
The guys that took us to the 50 mark
Following hot in their footsteps came another three new joiners in three different parts of the business.
Anna Walton joins our growing marketing team as a digital marketing executive. Anna has held marketing roles in the IT and telecoms sector as well as the legal sector. She has completed the Google Squared qualification and will be focusing on all things digital for ForrestBrown.
We now have a second technical specialist to support our tax team in preparing claims for HMRC. Tom Heslin has six years' experience in the R&D tax credit industry, having worked at Alma Consulting Group (now Ayming) and Braithwaites. In this important role, he will use his knowledge to interpret the business guidelines and act as a bridge between people on the technology side and HMRC.
Ollie Bull is our latest tax associate. A history graduate, he started working towards his ACA qualification at Deloitte. After attending his ForrestBrown interview he thought "Why wouldn't someone want to come and work here?" Now he is doing the ACA CTA Joint Programme with support from the ForrestBrown Learning Lab. Ollie is the tenth tax associate that we will be supporting this year.
We're still recruiting
So we've got to 50 staff, but we have big plans and heaps of ambition. If you think you have what it takes to join our tax, technical or operation teams head over to our careers website. You'll find out all you need to know about joining our amazing team.