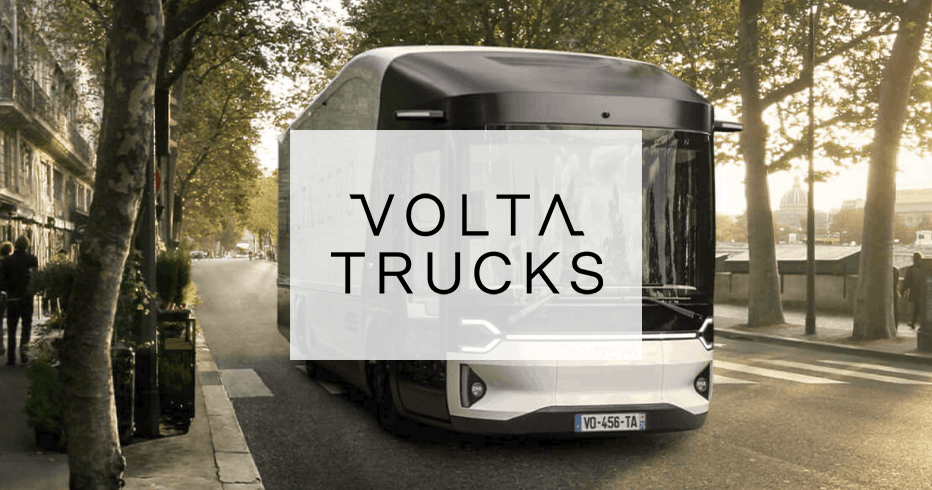 Consider the average lorry or commercial vehicle. The way it looks hasn't changed in a very long time. "Established truck design hasn't changed in decades. Until now," as Volta Trucks' Duncan Forrester explains.
There are no accidents in vehicle design. The established truck design was created to fit within its packaging limitations. The requirements of a commercial vehicle's powertrain – the 'go parts' i.e engine, transmission, drivetrain – constrain vehicle designers, with the internal combustion engine at the front for cooling, and the driver sitting on top of it.
But internal combustion engine trucks emit significant pollutants, and especially in city centres where air quality is at its worst. Their heft also severely damages infrastructure (one estimate is that a single heavy truck is equal to the damage caused by 10,000 cars). And, finally, existing trucks are not designed with driver comfort in mind.
Trucks need to change, explains Volta Trucks' Duncan Forrester. "Several things are coming together at once: an increasing societal focus on climate change, air pollution (which is at its worse in city centres), twinned with statistics from Transport for London showing 26% of all pedestrian fatalities and 78% of cyclists deaths are due to heavy goods vehicles despite only being responsible for 4% of road mileage."
It's all these challenges that the Volta Zero, a new all-electric truck being designed from the ground up, is set to change.
Automotive R&D tax credits
Volta Trucks was established in 2017 by Swedish founders. They set out with the ambition to decarbonise city centre logistics and make commercial vehicles safer for use in crowded urban centres. It was also focused on improving the working environment for drivers and supporting fleet managers with their migration to electrification.
UK R&D tax relief for international corporations/multinational group structures
R&D tax relief is a UK government incentive. So normally, a Swedish business would not qualify for the incentive. But like so many businesses in the globalised economy, Volta Trucks' corporate structure stretches beyond national boundaries.
There are two levels to Volta Trucks' group structure. There's the Swedish parent company and there's a UK headquarters. The UK company exists, explains group Finance Director, Oliver Needham, because of the UK's unique pedigree in automotive manufacturing.
"The lion's share of Volta Trucks work and employees are in the UK," says Oliver. But the way the group was structured meant Volta Trucks could only claim the Research and Development Expenditure Credit (RDEC).
RDEC is geared towards large entities and is less generous than the SME R&D tax credit. ForrestBrown's specialists realised, however, that Volta Trucks could safely and robustly access the SME credit.
Find out more about RDEC incentive.
How ForrestBrown helped Volta
Initially, our work with Volta Trucks was purely consultative. A team of specialists including our chartered tax advisers, our technical director Jenny Tragner CA ATT and sector specialists advised Volta Trucks on the eligibility of costs incurred across its group structures. Over time, this relationship has evolved.
ForrestBrown's team offered clear guidance and a detailed analysis of the contractual relationships between Volta Trucks' UK subsidiary and Swedish HQ. Our advisory team helped Volta Trucks to navigate several complexities about how these relationships interact with R&D tax reliefs.
Moving forward, our team offered clear guidance on how to set up the contractual relationship with Volta Trucks' Swedish HQ. This advice enables Volta Trucks to claim the SME credit. Moving forward, ForrestBrown will now help Volta Trucks submit its claims.
"I expect the size of the claim is going to be an order bigger," Oliver says. "I'm pleased with the work ForrestBrown has done. The team is super helpful. You clearly know what's acceptable and your specialist automotive industry insight has been very useful."
The future of city centre logistics
With no internal combustion engine, designers of the Volta Zero developed a new vehicle from the ground up. With the truck's electric powertrain situated in the rear, this allowed the company to design the cab around the driver – not the engine.
The driver sits low, at the same eye height as those around the vehicle, and centrally, enabling the driver to always enter and exit the vehicle onto the pavement rather than into the traffic. "Driver recruitment and retention is an industry-wide challenge, so the driver's working environment and their comfort in the Volta Zero is a priority", says Duncan.
Volta Trucks' ambition stretches beyond the vehicle, however. "We want to take the challenge of conversion to electrification away from fleet managers," Duncan says. It's a "Truck as a Service" model.
"We don't just want to sell customer's a truck. We want a more engaging relationship. Fleet Managers know that they need to migrate to zero-emission vehicles, but many don't know how to. We will support our customers with every step of this transition."
As part of Truck as a Service, customers will have access to the vehicle, charging infrastructure, and all of its servicing, maintenance, insurance and training requirements for a single monthly fee.
"By the end of 2020, we'll start the rollout of a Pilot Fleet of between 12 and 20 vehicles. These will be used and evaluated by our customers to understand how a large electric truck can integrate into their fleet operations. And it will also give us insight into how they use the vehicle, which can feed into our development processes. And then we plan to start series production of customer vehicles in late 2022."
ForrestBrown thinks: New vehicles from the ground up
As our automotive sector specialist Robin Taylor observed, the design of automobiles and trucks have remained consistent for a very long time. The disc brake was first designed in the 19th century and the internal combustion engine was patented in 1794.
This is, in large part, what makes Volta Trucks' mission so ambitious. The company is designing a new truck from the ground up (as well as managing the infrastructural change required by its clients). It's a big departure from over a century of business as usual.
Your work needn't be as comprehensive. R&D in automotive can be developing alternative lightweight materials, or refining ingress/egress on side doors to aid with passenger access, for example. R&D takes many forms.
Volta Trucks' challenge, however, was not just redesigning the truck for the 21st century. Like so many ambitious firms, its operation straddles across borders. As we tackle climate change, international cooperation will only increase.
R&D tax relief is still available to firms like Volta Trucks and others. And before simply accepting an RDEC claim or not claiming at all, it's always worth speaking to a reputable consultant. The rewards for doing so can be substantial.
---
Expert consultancy without borders
Does your innovation happen within a multi-national structure? With the right support, you can still claim R&D tax credits confidently and simply. Speak to ForrestBrown today about your work, projects and plans for the future.